GORE-TEX 101
GORE-TEX is synonymous with reliable storm protection. GORE literally pioneered the waterproof, breathable membrane technology that dominates the outerwear we all use, but understanding all of the GORE options takes some research. How much do you know about all the variations of GORE-TEX? Read on to learn the details about the GORE variations as well as the latest on the newest GORE PRO options, the highest performing membrane in GORE's product line.
GORE-TEX is a Laminate
GORE-TEX is a material made by laminating a waterproof yet microporous membrane to a face fabric. The actual GORE membrane is incredibly thin and allows water vapor to pass out while not allowing water in. There are three primary GORE-TEX constructions:
2-Layer (2L) – Uses a two-layer sandwich of face fabric with the GORE membrane laminated to it on the inside plus a non-laminated lining layer — often mesh, nylon or microfiber that serves to protect the GORE membrane and create a comfortable feel inside the jacket. GORE-TEX 2L can be paired with insulation and is generally warmer, heavier, and less expensive than 3L or 2.5L versions.
2.5-Layer (2.5L) – Uses a two-layer sandwich of a face fabric with the GORE membrane laminated to it plus a spray-on or printed backer on the inside. This "half layer" on the inside appears almost unnoticeable but adds durability to the membrane. 2.5L GORE-TEX is the lightest of the three traditional GORE waterproof, breathable constructions.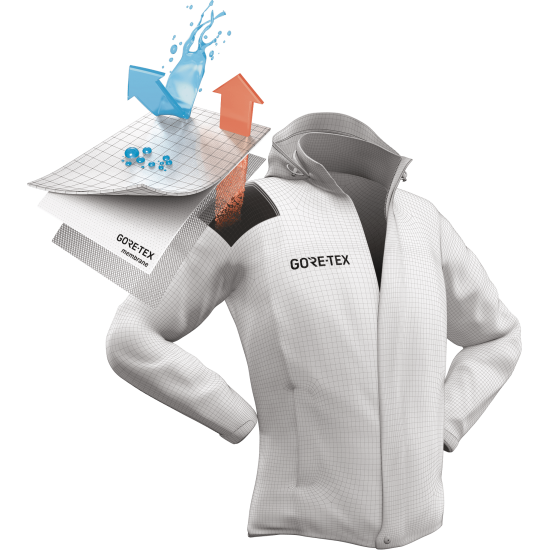 3-Layer (3L) – Uses a full three-layer sandwich of a face fabric+membrane+knit backer — all laminated together. GORE-TEX 3L construction is the classic unlined, uninsulated, high performance shell design. Despite its three-layer name, it feels like a single layer. It's the most durable of the three constructions and is lighter than 2L.
Which GORE-TEX is for You?
In addition to the three laminate types, GORE-TEX comes in a variety of performance levels: PRO, Paclite, Paclite +, Active and SHAKEDRY. PRO is the most durable version of GORE-TEX. Paclite is all about being lightweight and packable. Paclite+ is a more durable version of Paclite. Active is the most breathable version of 3L. And SHAKEDRY is the lightest and most breathable of them all, but it's also less durable. Read more about ultra-light GORE SHAKEDRY
Most GORE-TEX outerwear for skiing is either GORE-TEX (2L or 3L), PRO (3L) or Active. Paclite (2.5L) and SHAKEDRY are typically specialty styles used for running and cycling. They can be used for skiing, but they are less durable than the alternatives.
Finally, there is GORE INFINIUM, which is not actually waterproof. GORE INFINIUM is a windproof, highly breathable and water-resistant laminate. It's essentially the evolution of GORE Windstopper. It's used in gloves, jackets and pants. It's well-suited to ski touring and mountaineering because of its breathability, but it is not fully waterproof.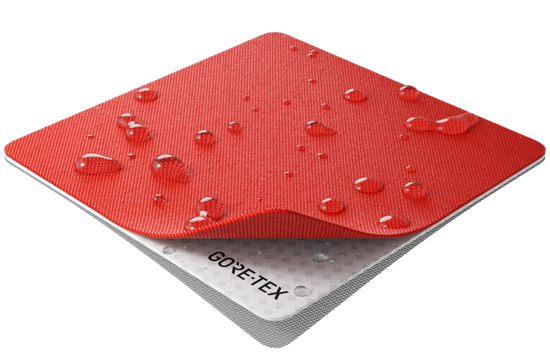 GORE PRO 2.0
PRO is GORE's most durable construction. And by durable, we're talking durable weather resistance plus overall material durability. Until recently, the nature of the GORE PRO membrane meant it was paired with burly fabrics that made for a stiff, crinkly feel and somewhat heavier feel, while the other GORE products evolved to be lighter and easier moving. Now, GORE has applied much of the same lighter, stretchier, more breathable tech to their PRO level membrane and have three distinct PRO 2.0 variations: PRO rugged, PRO stretch and PRO breathable. The breathable and stretch varieties use lighter materials without compromising on the durability of the PRO products, while the rugged variation is even more rugged than ever.
In other words, GORE PRO is evolving to be have more stretch, be more breathable and provide greater durability than previous versions — all while being lighter and offering a more natural flexing feel. All three PRO variations can be combined into a single jacket or pair of pants to cater to its end use. For example, a jacket could feature stretch across the back, increased breathability in the core, and rugged durability in the sleeves.
Choosing the Right GORE-TEX Jacket for Backcountry Skiing
While I am a strong advocate for backcountry skiing in softshells and other breathable outerwear options as much as possible, I always pack a waterproof, breathable shell for windy ridge tops, stormy conditions and as backup. The first step to choosing the right GORE-TEX backcountry ski jacket is understanding the various waterproof, breathable techs on the market. There are many options, but GORE is generally regarded as the standard to which all others are measured.
Armed with the knowledge of GORE-TEX levels, choosing the right jacket for backcountry skiing comes down to a few easy to consider factors:
Weight – If you have the luxury of choosing a dedicated touring shell, the lighter the better. 3L and 2.5L andhybrid softshell variations are the constructions of choice for a backcountry skiing. If you need a ski jacket that will handle lift-serve and backcountry, 3L is the most durable or look at heavier designs that offer more features and potentially durability depending on the materials used.
Breathability – Breathability makes a difference. GORE Active and GORE PRO breathe better than standard GORE options. The addition of pit-zip vents also makes a big difference, but zippers add weight and bulk. Look for hybrid designs that use 3L GORE TEX in high impact areas and more breathable, water-resistant materials (like GORE INFINIUM) to enhance breathability.
Design simplicity – There is real beauty in design simplicity. It also directly impacts weight and packability. The more zippers, pockets, powder skirts, velcro flaps and corded adjustments, the more weight and the more stuff you have to deal with during transitions. Keep it simple and keep it light is my advice. Less is more when it comes to GORE-TEX jackets for backcountry skiing. Look for a stripped down 3L design with two pockets and limited other features.
Here's a collection of GORE-TEX waterproof jackets designed with backcountry skiing in mind: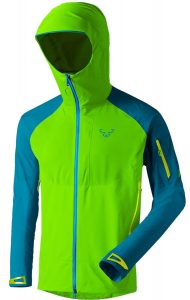 Dynafit Free GTX Jacket – $599
Bomber GORE 3L jacket, 19oz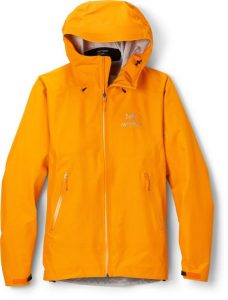 Arcteryx Beta LT Jacket – $399
GORE PRO Arcteryx's lightest GORE-TEX shell at 12.2oz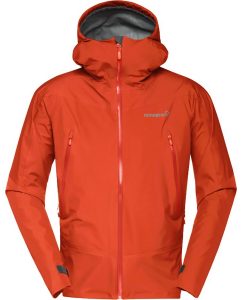 Norrona Falketind Jacket – $469
Clean, simple, do-it-all GORE-TEX 3L shell, 16oz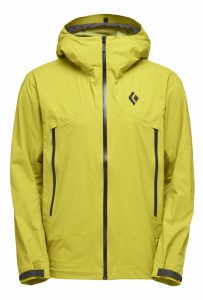 Black Diamond Helio Active Jacket – $399
Lightweight GORE 3L Active shell, 13oz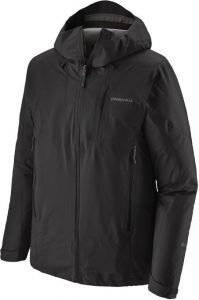 Patagonia Ascensionist Jacket – $499 
Lightweight GORE 3L Active shell, 13oz