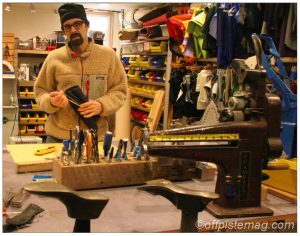 REPAIR, RENEW, REUSE
All in a day's work at Mountain Soles
In an era of disposable products where cheaper equals better to many consumers, there stands a testament to quality and longevity in a small shop in Portland, Oregon. Mountain Soles, a fixture in Northwest outdoor gear repair since 1979, has been quietly repairing, altering and renewing quality outdoor footwear, clothing and softgoods for those who choose to repair rather than replace for 35 years.
"Our focus is keeping quality gear functioning and out of landfills," says owner Matt Menely while leaning against one of several commercial sewing machines in his modest Portland shop.
Mountain Soles got its start in 1979 inside the garage-based shop of founder and budding cobbler Bill McKinney. McKinney soon moved the shop into a small office in the back of the then fledgling Portland outdoor shop, Oregon Mountain Community. Focused on leather boot construction and repair, Mountain Soles soon became the go-to source for quality leather hiking and telemark ski boot repair as well as rock shoe resoles in the Northwest and beyond. McKinney eventually moved shop to Trout Lake, Washington along the timbered flanks of Mt Adams where he successfully ran the business until 1999 when current owner, Matt Menely, learned the ropes, bought the business and moved the shop to southeast Portland.
Reminiscing about the snowy December day in 1999 when the sale closed and he moved the shop into a remodeled garage near his home in SE Portland, Menely recalls with a laugh, "I even had a Y2K clause in the contract in case of some epic event at the turn of the century."
When asked about his background and interest in footwear and gear repair, Menely laughs and says, "My mom taught me how to sew in sixth grade … I grew up on hiking and skiing around Mt. Hood, following my dad around the Tatoosh and various Northwest mountains on foot and skis. I've always been a tinkerer and into the outdoors. I even made a snowboard in high school shop class and sewed my own padded snowboard case. Taking over the repair business was a natural extension of my interests."
Prompted for more stories, he recalls resoling his own rock shoes (and those of his friends) in college and the time he decided to make his own clipless pedal compatible mountain bike shoe. "There weren't many options for mountain bike shoes at the time, so I clamped a sander to the table and ground the sole off my road shoes and glued a Vibram sole to the bottom. I had to cut out a hole for the clipless pedal piece, but it worked."

Mountain Soles has come a long way since it moved back to Portland in 1999. Menely successfully expanded the business beyond footwear repair to include outdoor clothing and gear repair. He also opened up a retail location to streamline the pickup-up and drop-off process that revolved around Portland's various outdoor shops and rock gyms. He has since moved back to a non-retail shop in an effort to reduce interruptions and increase work efficiency. He has also scaled back the resoling side of the business and has a stronger focus on repairing outdoor clothing and gear.
"Replacing jacket zippers is one of our most common repairs, but we work on everything from tents and packs to ski clothing and cycling shorts," says Menely.
In fact, a sizable portion of his business is warranty repair work for Patagonia's Portland store and cycling clothing maker, Rapha. Mountain Soles is also the West Coast warranty repair center for Tubbs and Atlas snowshoes as well as for a wide array of outerwear and softgoods that get returned through REI. They're also the go-to shop for dry-suit and paddling clothing repair.
The small shop is an organized collection of colorful outerwear fabric stock, a wide array of zippers and essential small parts plus the equipment required to trim, stitch, glue, bond and seal everything from leather to Gore-Tex.
In an era when too many people are focused on getting the cheapest product they can, Mountain Soles and Outdoor Threads (the official full name) stands as a resource for people who understand the value of a product that is worth repairing. Menely takes pride in extending the life of dedicated outdoor junkies' gear. When asked whether Portland's reputation for locavores and a robust recycling-counterculture plays a role in the success of his business, he shrugs off the idea but adds, "Our core customers are Cascadians for sure."
The repair, recycle, reuse mantra runs deep in the adventure world and the Cascades exemplify the culture as well as any region. The "quality matters" movement and a focus on reducing the waste stream as well as one's carbon footprint have a strong following amongst the core outdoor user. And, fortunately, for those who appreciate equipment that's worth repairing, Mountain Soles provides.