Alpine Singletrack on the Rise
Story and Photos by Steve Shannon
A hundred kilometers south of Revelstoke, British Columbia, tucked away in an alpine meadow in the Monashee Mountains, sits a growing alpine singletrack hotspot: Sol Mountain Lodge. Sol has operated as a ski touring lodge since 2005 but with the lodge accessible by car after the snow melts, owner, Aaron Cooperman, has been focused on slowly building a network of alpine singletrack for summer and fall mountain biking.
This fall brings the total network to 20 kilometers of some of the sweetest trails around. Accessible from the lodge doorstep, hand-built singletrack weaves its way across alpine meadows and climbs through sub-alpine fir forest into the alpine environment, including the newest trail to Sol Lake that winds through Monashee Provincial Park.
Building the network has been a long, difficult process and that's not just the labor required. Getting approval to enter the park has taken three years of permit applications, environmental assessments and public reviews before construction of trail inside the park boundary started this summer.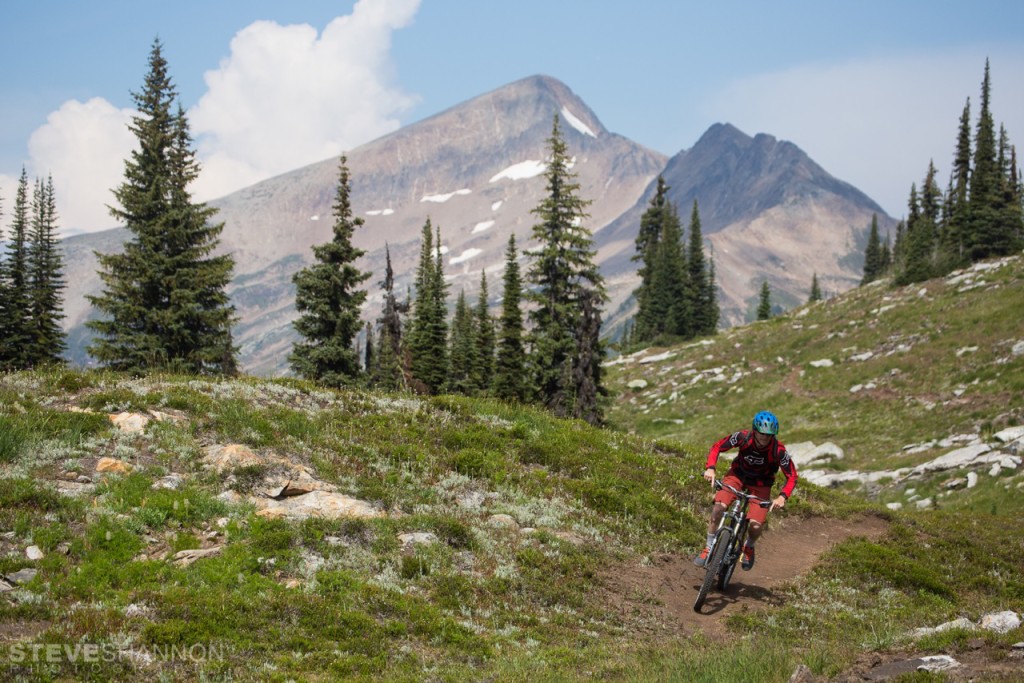 With the Sol Lake trail now complete, the riding potential at Sol Mountain Lodge is worthy of a multi-day visit. Twenty kilometers of trail extend from the lodge doorstep around the alpine meadows and ridgelines. There's easy, family friendly XC-trails and more difficult options to keep experienced riders fully entertained.
The descent from ridge to the lodge is a must ride – 5.2 kilometers of rock slabs, berms and bridges all make an exhilarating ride back to cold drinks on the deck. According to Cooperman, also an ACMG Ski Guide, "I never thought I would say this – but ripping down from ridge at sunset on our featured-filled pumpy singletrack is WAY more fun on a plush mountain bike than on skis – did I really say that?!"
The next project is to extend a branch from Sol Lake to Caribou Pass at the foot of 2700 meter Mount Fosthall. This trail is slated for opening in the summer of 2017. For now, as autumn approaches the riding season is far from over. September offers some of the best riding conditions at Sol with cooler temperatures, no bugs and beautiful golden alpine. For more information, visit www.solmountain.com