Ortovox Adds Voice Direction to the Beacon Search Equation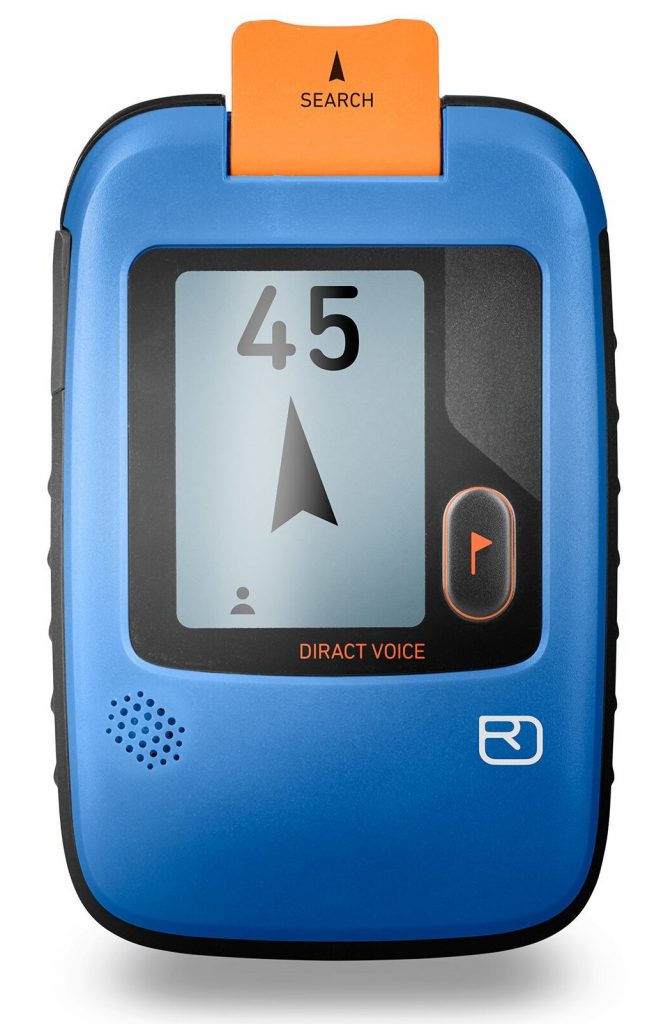 The advent of digital signal processing was a game changer for avalanche beacon technology. Directional arrows and distance readouts are standard fare. There are a few more pieces to the puzzle — like multiple antennas — but the point is that technology has made using avalanche beacons faster, easier and more effective.
What's the next logocal step in avalanche beacon technology? How about a transceiver that literally tells you what to do. That's exactly what Ortovox Diract Voice avalanche beacon offers. Using input from avalanche rescue experts and psychologists, the Diract Voice offers clear spoken instructions to guide every phase of  a search. Simple commands help keep a search on track and, hopefully, reduce stress in what is definitely a stressful situation.
Overview
Overall, the Ortovox Diract Voice avalanche beacon has a very clean and intuitive interface. There are three buttons in total: a power button tucked into the backside, a flagging button on the front and a simple switch that engages search mode. It's reasonably small, has a nice feel in the hand and an easy-to-read display.
Voice Direction
Technology has clearly made searching for avalanche victims easier, faster and more effective. So what about adding voice commands? Before I get into how voice direction influences searching, let's look at the commands.
Ortovox wisely chose to keep the commands simple. The most complex command, "Run in 50-meter search strips and look out," is the initial direction you hear when switching to search and before the beacon picks up a signal. Once a signal is acquired, the commands are short and to the point. There's no mistaking "Run straight" and "Keep right." And such direction definitely helps keep a search on track.
Not surprisingly, users reacted differently to having the spoken directions. In general, experienced beacon users were less enthusiastic about the addition of the voice. It's not that the voice wasn't on point. It's simply redundant for a practiced user who is already focused on following the visual indicators on the screen. In fact, the beacon's processor is so fast and effective that the screen visuals were slightly ahead of the voice commands allowing an experienced searcher to effectively follow the search path ahead of the voice direction.
However, more novice users and less practiced searchers found the voice guidance very helpful, especially when it came down to the fine search. Hands down the most appreciated voice commands were "Go down to the snow surface" and "Search the smallest value," the last prompts before beginning a fine search phase.
If years of beacon practice and training others on searcing has taught me anything, it's that modern directional beacons expedite the initial search phase for all levels of users and that less experienced searchers struggle with their fine search skills. The Diract Voice did a great job getting searchers to move to the snow surface for the fine search at the right time — a key step in an effective fine search. This command alone is likely to save lives.
Fast, Effective Signal Processing
Obviously, voice direction is what really sets the Diract Voice apart from other avalanche beacons. But there are more features worth mentioning. The first of which is the beacon's signal processing. Search after search, the signal processing is fast and consistent. From course to fine searches, it serves up reliable directional data without glitches. You can still move too fast or too erratically for the processor to follow, but it does a good job of catching up without causing too much confusion.
Rechargable Battery
The Diract Voice is also the first beacon to offer a built-in rechargeable battery. Ortovox says the lithium-ion battery offers 200 hours in send mode. Although I did not run it for a full 200 hours, I did leave it in send mode for five full days and only reached half capacity of the battery. I also used the beacon on a week-long hut trip without recharging or falling below 75%. On the charging front, Ortovox does not recommend daily charging. They suggest waiting until at least 80% before charging, and they call out 40% as the point for required charging.
Smart-Antenna Technology
Although not new technology, the Diract Voice Beacon features Ortovox's Smart-Antenna Technology. It's found in their other beacons, too. It benefits the transmitting signal by using a three antenna system that analyzes the beacon's orientation and automatically switches to the best transmitting antenna to maximize transmition range. A standard beacon's transmit range is dependent on the beacon's orientation in a burial. Ortovox's Smart-Antenna Technology helps to maximize the distance at which searchers can pick up a Diract Voice beacon when buried.
Advanced Features
While the voice direction definitely appealed to less experienced users in our testing, the beacon is by no means basic or targeting beginners. The Diract Voice is fully featured with pro-level tech like a group check mode and easy signal masking (flagging) for multiple burial scenarios. It also connects via bluetooth to a companion phone app making for easy firmware updates in the future.
The Bottom Line
The Ortovox Diract Voice avalanche beacon is step forward in making avalanche beacon searches more user friendly. Although experienced users may see less benefits to the voice direction than inexperienced users, the commands provide solid back up to help ease stress in an obviously high-stress situation.
Our testing with a wide range of users showed that less practiced users benefited the most from the voice commands. We saw improved fine searching based on the voice prompts to "drop to the snow" and "search for the lowest value."
The Diract Voice avalanche beacon combines pro-level features like group check and multi-signal flagging with an intuitive interface and the benefit of clear spoken commands. Voice commands are not a substitute for avalanche beacon practice or search experience, but they offer timely prompts to keep a search on track.  The best avalanche beacon for you is likely the one you have the most experience with. But if it's time to upgrade your beacon or you're in the the market for your first one, the Ortovox Diract Voice deserves your attention.
check availability of the Ortovox Diract Voice Avalanche Beacon $380
using our affiliate links helps support offpistemag.com