Made for Big Days
Traditional backcountry ski packs get less attention in this age of avalanche airbag packs. Airbags certainly have their place, but so do regular ski packs. For example, the Gregory Targhee FT 35. It's a ski pack that's ready for big loads, overnight trips and technical objectives.
Targhee Pack Design
The Targhee FT 35 is a traditional top loader with a large opening and extendable volume to meet the demands of gear intensive missions. FT stands for FastTrack, which is a ski carry system that lets you strap on your skis without removing the pack (more on this below).
One thing that sets the Targhee FT apart from other packs in its class is a lightweight (and removable) internal frame. Given the pack's ability to swallow gear, the frame keeps a heavy load stable and well supported. That said, it's overkill for a basic day-ski load, and Gregory wisely made it removable. They even promote a "lightweight mode" without it. The internal frame — a plastic sheet and aluminum stays — comes out as one piece. I actually found I liked the pack best with the plastic sheet installed but minus the aluminum framing. You can also remove the hip belt and top lid for a stripped down "summit" pack.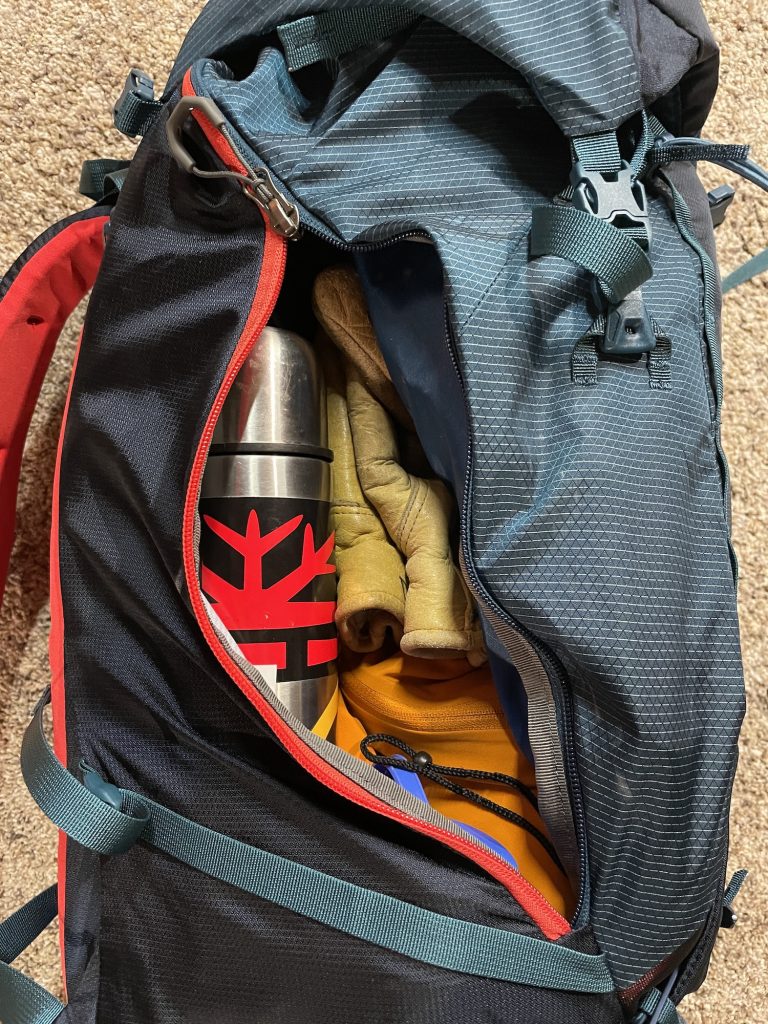 Another nice design feature is the way the top opening incorporates a full-length vertical zipper. The zipper effectively creates side access (from the top or bottom) to the main body, so you can grab what you need without going through the top. It's an essential detail for any pack that does not include backpanel access.
The overall feel of the Targhee FT is trim and and comfortable albeit with a relatively tall profile. The suspension and overall build benefit from Gregory's years of quality pack design. It rides snug to the body, and quality materials give it a solid, adventure-worthy feel.
Pack Size
Pack volume measurements vary between brands, and the Targhee FastTrack's 35 liters is more generous than many 40-liter-rated packs I've used. It's spacious enough to take a lightweight overnight load. But it could also be just right for someone who likes (or needs) to pack extra gear on day trips or if you're looking for a ski-oriented pack that's up for technical tours that require a packing a rope, harness and associated gear.
Features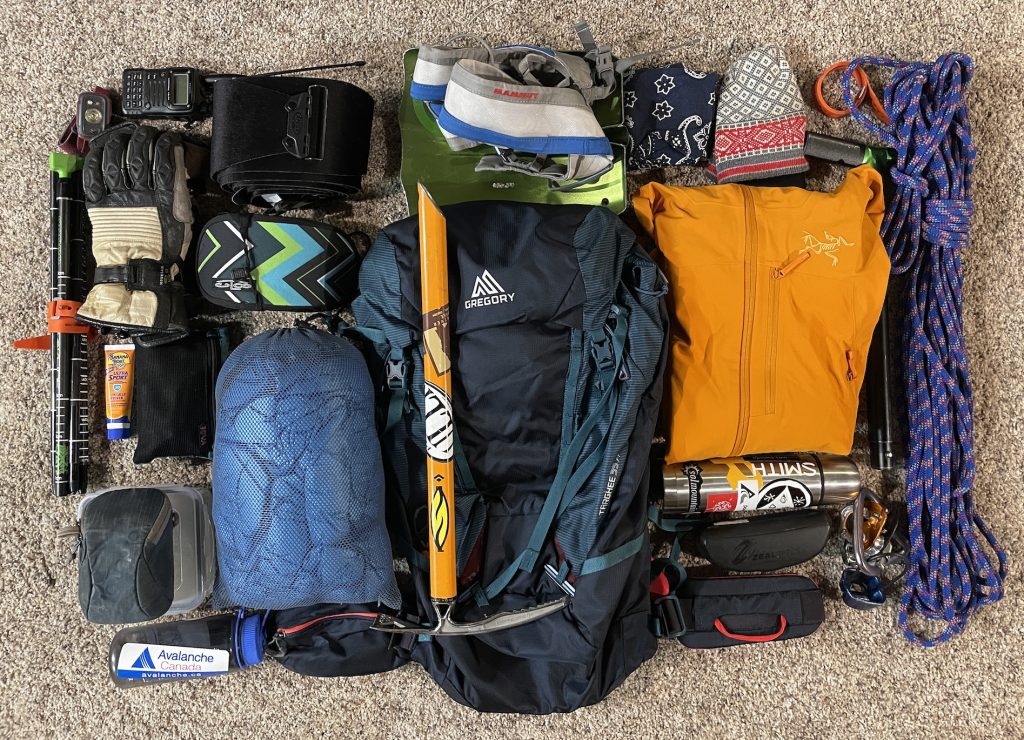 First and foremost, a backcountry ski pack needs separate avalanche tools storage. The Targhee FastTrack provides with a dedicated tools pocket on the front incuding sleeves for a probe and shovel handle. I'd like to see the pocket continue to the base of the pack for better pack compression when the main body isn't fully loaded, but there's still plenty of room for a good shovel and three-meter probe.
Next up is a selection of pockets to keep all your small stuff organized and easy to access. In keeping with its traditional top-load design, accessory pockets are limited to the two pockets in the top lid and a small hip belt pocket. I was also able to stow my repair kit in the small pocket used to store the helmet carry strap located in the avalanche tools pocket.
FastTrack Ski Carry System
As mentioned, the FT in the name stands for FastTrack and refers to the ski carry system that allows for strapping on skis without removing the pack. The design lets you pair your skis, slide the tails through a spacious side loop and then secure the tips with a bungee-like strap that's accessible from the shoulde strap. It's actually pretty slick and seems appropriate for a pack that is suited to technical endeavors where you'll inevitably be kicking steps up a boot pack. Gregory has a short video that shows the FastTrack ski carry in action that's far better than anything we could create. Along the lines of technical features, the pack also has secure ice axe storage. And there's an extra strap under the lid to secure a rope.
Best Use
The Gregory Targhee FT 35 holds a lot of stuff. While it's a basic top loading pack, numerous design features take it well beyond basic. It's a ski pack designed for fast and light overnight missions and technical objectives. It's a good choice for a lightweight Spearhead tour or even the Wapta if you are a serious gram counter. You can always pack lightly, remove the frame and use it for day trip powder laps, too. But it's forte is carrying a load and doing so efficiently. There's a Targhee FT 45 for skiers looking extend their range beyond a night or two. And there's a Targhee FT 25 for quick-hit objectives and sidecountry adventures.
Gregory Targhee FastTrack 35 Ski Pack $220
purchasing through our links helps support offpistemag.com