Headlamps for Backcountry Skiing
Have you ever tried to finish a ski tour in the dark or found yourself chasing daylight through the woods? Darkness takes on new meaning in the forest far from trailhead or home without a headlamp to light the way. Ounce for ounce, few pieces of gear can get you out of jam with a better weight-to-usefulness ratio than a good headlamp. Modern LED technology can be a literal lifesaver when you find yourself racing the sunset. I'll spare you the 'back in the day' descriptions of pre-LED headlamps. Suffice it to say, LED technology means compact and powerful lights that make keeping a headlamp in your ski pack a no brainer. It may rarely get used, but when you need one, there is no substitute.
Good vs. Great
I've used a lot of headlamps over the years, and while any headlamp is better than no headlamp, there are detals that separate a good headlamp from a great headlamp.
Keep it simple. Multiple buttons or button-pushing sequences and self-adjusting brightness might look good in writing. But in practice, they are over-complicating a simple service. Give me a basic on and off button with a high, medium and low settings any day. 
Make it rechargeable. The ability to use regular replaceable batteries might make sense for remote multi-day adventures, but rechargeable headlamps make more sense for day trips. Today's rechargeable models offer hours of reliable light and save big on battery waste.
300-400 lumens is plenty. Sure, 600 lumens is brighter and more impressive, but the reality is that 300-400 lumens lets you navigate in the dark at a walking or skinning pace just fine, especially given snow to reflect the light. 
Check for IP rating. An IP (Ingress Protection) rating refers to how well sealed electronics are to dust and water. For example, IP65, the first number (6) rates the dust protection and the second number (5) rates water protection. Look for ratings of 4 or better. Check the IP rating chart for more details. 
Headlamp Picks
We've been testing a few headlamps this winter from Ledlenser, a German brand with a relatively new US office located in Portland, Oregon. Ledlenser makes a wide range of lights, and the two included here walk a nice balance of bright output and compact size – plus they are rechargeable. Ledlenser backs all of their lights with a seven year warranty, very nice considering that many headlamp brands seem to err on the short-term, disposable side of durability. An no headlamp recommendation is complete without a look at the classic Petzl Tikka. The Tikka has proven itself to be one of the more durable, compact headlamps on the market and the Core model offers the fexibility of a rechargeable battery pack or traditional battery use. 
300 Lumen Headlamp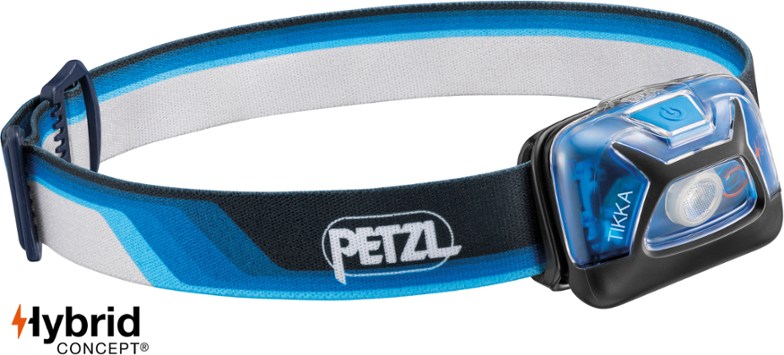 Petzl Tikka Core – $60, Max output 300 lumens for 3 hours
The Petzl Tikka is a time-tested classic that is about as simple as it gets. You can find brighter, longer burning headlamps, but the Tikka will get you out of a jam, and its proven to stand up to trip after trip of use.
Add the Core rechargeable battery and you have a compact, do-it-all headlamp that offer hybrid power options – meaning it runs on a rechargeable battery or with AAA batteries. It has three brightness settings (300 lumens, 100 lumens, 6 lumens) chosen by simply pulsing through the one and only button. The Tikka literally fits in the palm of your hand. IPX4 = water rated to handle spray from all angles. Check prices on the Tikka Core
400 Lumen Headlamp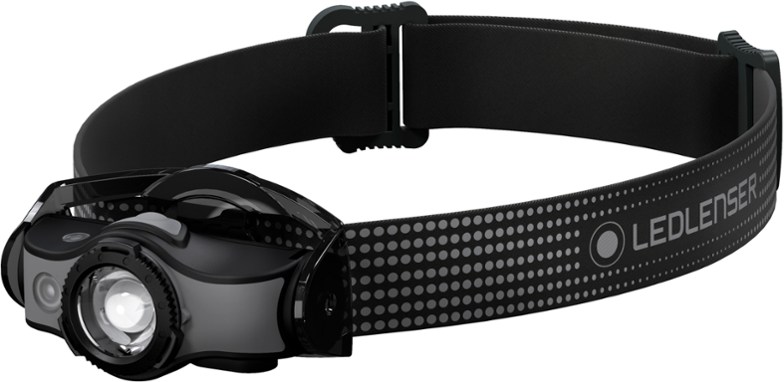 Ledlenser MH5 – $49, Max output 400 lumens for 4 hours
If flexibility and brightness are on your list, the Ledlenser MH5 offers up to 400 lumens and includes a rechargeable battery that also works with common AA batteries should you need a backup plan. It has two settings – low (20 lumens) and high (400 lumens) – plus an adjustable lens that offers a broad flood beam and a focused long-distance beam that are easily adjusted with a quick turn of the light's outer ring or bezel.
It uses a single button that lets you toggle between on, bright, low and off. It's not quite as compact as the Petzl Tikka, but it's also 30% brighter, burns longer and the adjustable beam makes for an impressive 180-meter range. I'd prefer a common micro USB connector for the charger over the magnetic connector supplied, but the magnetic system is super easy to use. IP54 rated = dust and water-resistant; able to handle spray from all angles. Check prices on the MH5
600 Lumen Headlamp

Ledlenser MH10 – $70, Max output 600 lumens for 10 hours 
If you can't resist the idea of going bright, the Ledlenser MH10 offers 600 lumens in a lightweight package. 600 lumens is bright enough that you can actually do some skiing, albeit somewhat terrain dependent. The MH10 offers the best weight-to-lumen ratio of all Ledlenser headlamps and has three brightness modes – low (10 lumens), medium (250 lumens) and high (600 lumens). Burn time at high is an impressive 10 hours.
The long battery life comes from its larger and external battery design. The external battery pack can be positioned anywhere along the band or even unclipped and stored in a jacket pocket to keep it warm. It's rechargeable via micro USB cord. IPX4 rated = water rated to handle spray from all angles. Check prices on the MH10
Read our Backcountry Ski Packing List to learn more about packing for a ski tour.
Read our Backcountry Repair Kit recommendations.
purchasing through our affiliate links helps support site