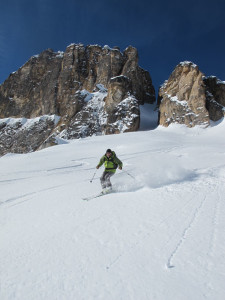 The deepest snowpack in the Northwest this winter is in Washington's North Cascades. I was lucky enough to catch a few bluebird days ski touring with North Cascade Heli and North Cascades Mountain Guides this month. We found some good snow hiding in the north-facing alpine reaches of the Washington Pass area. NC Heli offers a touring option where they fly you into the alpine in the morning and return late afternoon to pick you up after a full day of skinning for turns.
WSDOT is starting the Highway 20 road clearing process this week. So it won't be long and you'll be able to head for Washington Pass on your own, to hit some of the classic ski tours the area has to offer.
Here's a few picks of the fun . . .
This slideshow requires JavaScript.