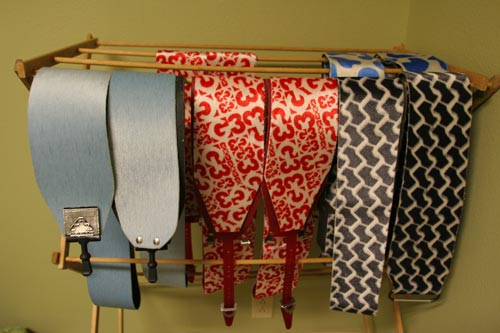 Climbing skins are, obviously, essential equipment for backcountry skiing. For a piece of gear that we use as much as we do, climbing skins do not get a lot of press. Skis are more fun to talk about, for sure, but a good skin is key to a good day.
I have a variety of skins going at the moment. Dynafit makes a skin to match their Manaslu ski and I have used them quite a bit this winter. The skin's unique attachment system interfaces with the slot in the tip of the Manaslu ski. I am not one for equipment designed for a single use, but the tip attachment system does work well. It is easy to release and I have never had any trouble with it getting kicked free or falling off during use. The skins are one of the better gliding skins out there,too, and their uphill traction is pretty good, not the best, but i would rather have a skin that glides well and climbs pretty good than a skin that glides ok and climbs the best. One of the best things about the dynafit skin is that it stays pretty darn dry in all
conditions, and it is, as you might expect from Dynafit, nice and light. The glue has been reliable, but I question its ability to stand the test of time as it seems a bit thin. So far so good, but time will tell.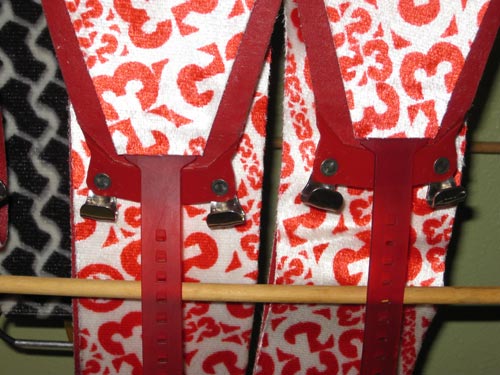 Another skin I have been impressed with is the G3 Alpinist. It has proven to glide as well as any skin I have, and climbs great. Like the Dynafit, the G3 skin is also quite light. It is tough to compare them as they are cut to different width skis, but they definitely fall into the lightweight skin category.  The cool thing about the Alpinist skin is its unique and functional tip attachment. The system uses two swiveling clips and the design accomodates a wide variety of tip shapes. It has proven to be bomber. With a season-and-a-half of use, the glue has proven reliable, too.
The last pair of skins i have in the mix is a pair of Black Diamond Glidelites. The offer a great reliable tip and tail attachment. The tail clip is similar to to the popular tail clip systems available, but i think it is one of th best. My complaint on the GlideLite is that the glide does not measure up against the Dynafit or G3's. The old blue and white GlideLite had one of the best glides around a few years back, but the newer version is sluggish. They do climb great and the glue is the oldest of all the skins i have and has stood the test of time well.
Key to a good skinning experience is good skin care. It is not rocket science to treat your skins well, but there are a few key elements to using skins.
Rule #1 –  Do not let the glue side touch the snow.
Rule #2 – Keep them folded glue side to glue side when not in use. I fold them in half as best as the wind will allow.
Rule #3 – If the glueside begins to ice up, tuck the skins inside your jacket on the descent, and or you can scrape the glue side against your ski edge – holdskin on either side of the ski edge and run it over the edge – and then stuff them inside your layers to warm up.
Rule #4 – keep the glue clean. Things like pine needles, sap, and animal fur will compromise your skin glue.
Rule #5 – Be sure to dry your skins over night
Rule #6 – Keep the skin side away from open water. Skins ice up when they get. stepping in wet snow or letting the tails dip into a creek on a creek crossing will set you up for clumping. I like to carry a plastic ski scraper (it has numerous applications) and use it to scrape my skins if they begin to clump up at all. A ski scraper and some skin wax go a long way, but applying skin wax without scraping them will limit the effectiveness of wax.
shop for climbing skin deals and support Off-Piste Mag
more climbing skin deals