Camelbak Chase Bike Vest Review
One of the big limiting factors when setting out on an extended adventure ride is water carrying capacity. It takes a lot of water to stay hydrated on a 100+ mile ride. The obvious solution is a hydration pack. But when traveling light is your goal, most hydration packs are overkill. The Camelbak Chase bike vest is a hydration pack for people who dont really like hydration packs. More like a runner's vest than bike pack, the Chase merges pack and vest into a minimalist design that lets you carry 1.5 liters of water and a surprising amount of other small adventure essentials like food, tools and backup supplies.
What
The Camelbak Chase bike vest is popular on the gravel race scene for a reason. Its low-profile design adds 1.5 liters to your water carrying capacity and puts essential snacks within super-easy reach on the shoulder straps. It also offers just enough storage space to add and extra tube, a small pump or extra CO2 cartridges and to stuff in a lightweight jacket or vest – all without feeling like you are wearing a backpack, 'cause it's a vest, after all. There are pockets on both shoulder straps. One side offers quick-grab storage for items like gels or bars. The other side provides more secure storage for say a phone, a multi-tool or just more snacks. The main body holds the reservoir and has multiple storage zones that utilize the bag's shape and limited capacity very well. Stretch material helps make storage adaptable, and multiple small zip compartments keep important stuff secure.
Comfort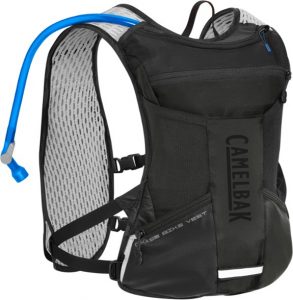 There's enough parts of your body to hurt and feel uncomfotable when taking on long rides without adding an uncomfortable hydration pack to the equation, so the vest's comfort is crucial. What Camelbak has done really well is design the back panel and shoulder straps to be body-hugging, breathable and comfortable, even for 100+ miles. The feeling of wearing a pack literally fades away after a few miles of riding. Its mesh material really breathes. It's also very hydrophobic. Even during long, hot rides, I've never felt burdened by the pack. It sits snug and secure against your back, and there's no bulky pack to bounce or swing on rough descents. The shoulder harness is one with the storage and the whole thing wraps around your torso for a low-profile fit. Made to be worn with a traditional cycling jersey, it rides high to offer access to jersey pockets for additonal storage options.
Stay Hydrated
The whole reason to use the Camelbak Chase bike vest is to stay hydrated. And the Chase makes it easy to do so. Camelbak invented the hydration pack, so the mouthpiece, reservoir and hose design are as good as they get, right down to easy reservoir access and a wide mouth for easy filling. There are other ways to stay hydrated on a long adventurous ride – namely carrying a small water filter like the Sawyer Mini – but filters leave you dependent on finding timely water sources. The Camelbak Chase bike vest makes staying hydrated easy. Plus, its minimalist design adds just enough added storgae space to make sure you have the food and repair essentials to get adventurous. 
Camelbak Chase Bike Vest 1.5-liter hydration pack: $100
Shop for the Camelbak Chase bike vest and support offpistemag.com
Read more of our Adventure Ride Essential gear reviews