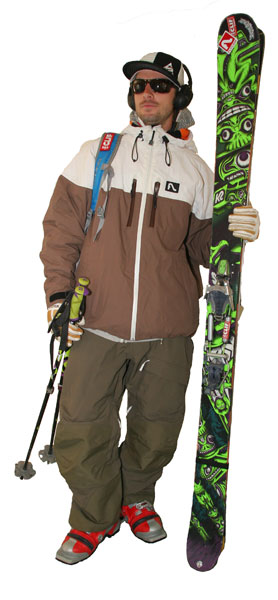 Backcountry Skier Personalities
We all know a Bro or two. A classic ski bum stereotype, the Bro Brah is found all over the world.  Stay tuned for the still to come Rando Racer and Newbie profiles.
The Bro Brah
Few skiers are as easy to identify as the quintessential Bro Brah. The Bro Brah is part ski bum and part pro skier wannabe. You needn't look far from the resort boundary to find him in his preferred slackcountry habitat. His turns are few and far between – favoring big radius arcs and rowdy straightline signatures in the snow. Look for clothing emblazoned with company logos, flat-brimmed trucker hats and tall knit toques.
Bro Brahs tend to sport the latest and greatest clothing and equipment, not to mention drive high-profile vehicles — often emblazoned with the same company logos found on their clothing. Perhaps the most common Bro Brah sighting is après ski, clustered in small groups around the aforementioned high-profile vehicles in a resort parking lot or backcountry trailhead drinking canned beer and using single syllabic words to communicate.
The Bro Brah is potentially dangerous to himself and others depending on the balance of energy drinks and alcohol consumed. Approach with caution and never ski alone with more than one Bro Brah. If f-bombs could reduce avalanche hazard, the Bro Brah would be a walking avalanche mitigator.
Next up: The Rando Racer
Check out the Gearhead, Jaded Local and the Luddite
Backcountry Skier Personalities originally appeared in the print edition of Off-Piste Magazine.