The opportunity to ski a wide variety of backcountry skis back to back for direct comparisons is the foundation of our ski testing program and our subsequent ski review write-ups.  This season's fresh crop of backcountry skis includes a few highly regarded favorites like the Voile V6, the DPS Wailer 112 and the Volkl BMT 94 but it also includes brand new skis from La Sportiva, Black Diamond and G3.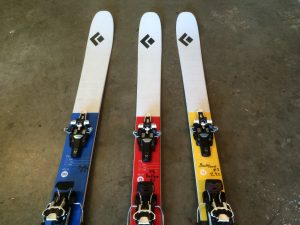 BLACK DIAMOND SKIS
The Black Diamond Helio line-up represents a new focus and all new skis for BD. The Helio line is being built under contract with Blizzard and the skis are light! They are some of the purest backcountry boards BD has offered in years. Shape and construction represent quite a shift from their more recent Convert, Megawatt and Aspect models. The shape is more traditional – light rocker with relatively traditional shape and minimal taper. Pictured at the right are the three models we tested: Helio 105, Helio 95 and the Helio 88. There's also a Helio 116. The numbers refer to the ski's waist width. All three feature carbon fiber and lightweight wood core construction making them some of the lightest in their class. The Helio 105 was our favorite of the group.

GENUINE GUIDE GEAR – G3
While G3 keeps their Synapse and Empire models, 2017 sees the launch of two new series: FINDr and ROAMr. The lightweight FINDr series targets mixed backcountry conditions and features three models FINDr 86, FINDr 94 and FINDr 102, while the ROAMr 94 and ROAMr 86 are a little heavier with a more mixed use (lift/touring) focus. The FINDr skis feature carbon construction and the CNC design looks similar to the Volkl V-Werks where material is removed from the edges and concentrated in the center. The design results in a lighter swing weight while helping to maintain dampness and flex profiles. The FINDr 102 weighs in at a respectable 6 lb 8 oz/pair (3kg).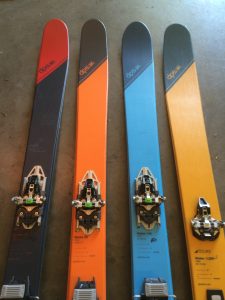 DPS continues with their successful Tour 1 ski construction – a lightweight design that builds on their successful Wailer series. When compared with the relatively modest weights of the Pure 3 construction – DPS' premium carbon/wood/nano tech core, the Tour 1 skis are up to a pound lighter per pair and definitely worth considering if you are looking for a dedicated touring ski. DPS adds a new model to the Wailer line for 2017, the Wailer 106. The 106 is available in the Pure3 and lightweight Tour 1 constructions. We skied the Wailer 106 in both construction, and both impressed testers. The image at the right shows the full Tour 1 lineup: (from left to right) Cassiar 95, Wailer 99, Wailer 106, Wailer 112. What a touring quiver that would be!
There's more coming soon . . . next round will offer a quick look at the Voile Super Charger, Dynafit Dhaulagiri, K2 Coomba, La Sportiva Vapor Float and more . . .
look for ski deals at backcountry.com, evo or omc