Voile Climbing Skins Reviewed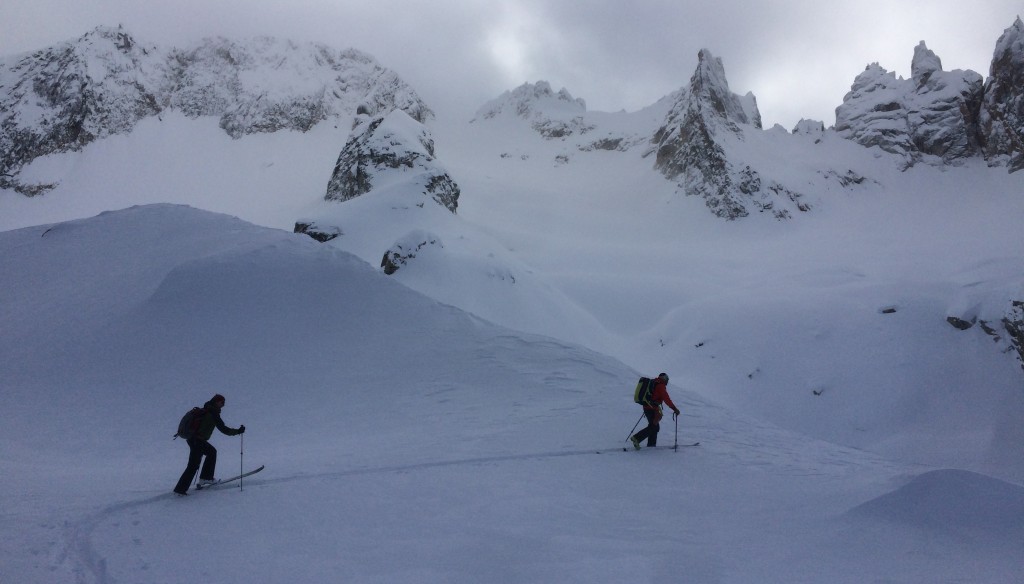 Voile Equipment is well known for their backcountry skis, splitboards and bindings, but they also offer a variety of time-tested backcountry gear including climbing skins. As I've said before, your choice in climbing skins can make a big difference in your efforts to move uphill. Given the width of today's skis, skin weight and glide are more important than ever for efficient climbing. Short of droning on about the merits of a modest angled skin track – I'll save  that for another time – but I will say that glide is every bit as important as grip, especially when laying an efficient, modestly angled skin track. Glide is a climbing skin's ability to slide over snow, and I'm not just referring to the occasional moment of descent on the skin track. I mean that every step with skins on your skis is effected by skin glide. The Voile climbing skins offer a very balanced grip versus glide experience.
In typical Voile style, their skins are no-nonsense and efficient. There is no enhanced trim shape to the skin or colorful graphic pattern just a straight-up rectangular shape in a solid rusty/orange color. The out-of-box feel is a little stiff, but the weight and thickness of the skin is similar to the competition. I suspect they will become more flexible and supple with use and time.
The glide proved to quite good right out of the package. Generally speaking, skin glide improves with age. But when a brand new Voile skin was matched against a Dynafit and a G3 Alpinist LT (both with numerous days on snow), the Voile performed nearly as well in glide and a little better in the grip department.
The skins include what is commonly called a "wimp strip" – the inch-wide strip of fabric down the the center of the glue – to help ease the pain of pulling them apart. The glue has been working great, but I have not run them long enough to speak to long-term glue durability. The packaging does not include the storage sheets that many skins now include for long-term storage.
I tested the Voile skins with factory installed tip and tail clips. You pick a skin width – 110mm or 130mm – and then choose the length range that fits your skis. The tip attachment is a simple wire bail that's compatible with a variety of skin tips, including a Dynafit ski with its specialized tip to designed to accept Dynafit skins.
The tail clip is reminiscent of the tail clip that comes with the G3 Alpinist LT skins. It is designed to work with rounded, twin-tip tails (like those found on Voile skis). I managed to kick the tail clip off a couple of times during kick turns over the course of a few days of skiing. Tightening the tail system after some initial skin stretch helped solve the problem. I also found the tail clip is not universally compatible. The clip design is problematic for some non-rounded ski tails. It fits a wide and straight cut ski tail, but did not work with a narrower straight-cut tail very well.
The Bottom Line
Voile climbing skins offer an ideal blend of efficient glide and effective grip that should suit the needs of almost any backcountry skier. I hear the occasional complaint about the poor grip of high efficiency glide skins like a mohair set-up and understand the desire for grip that you don't have to think about. Voile skins strike a great balance for all-purpose backcountry skiing; just keep in mind that the tail clip works best with a rounded, twin-tip style tails.
Buy Voile skins directly from Voile Equipment in Salt Lake City, UT
or shop for climbing skin options online Backcountry, OMCGear and Evo