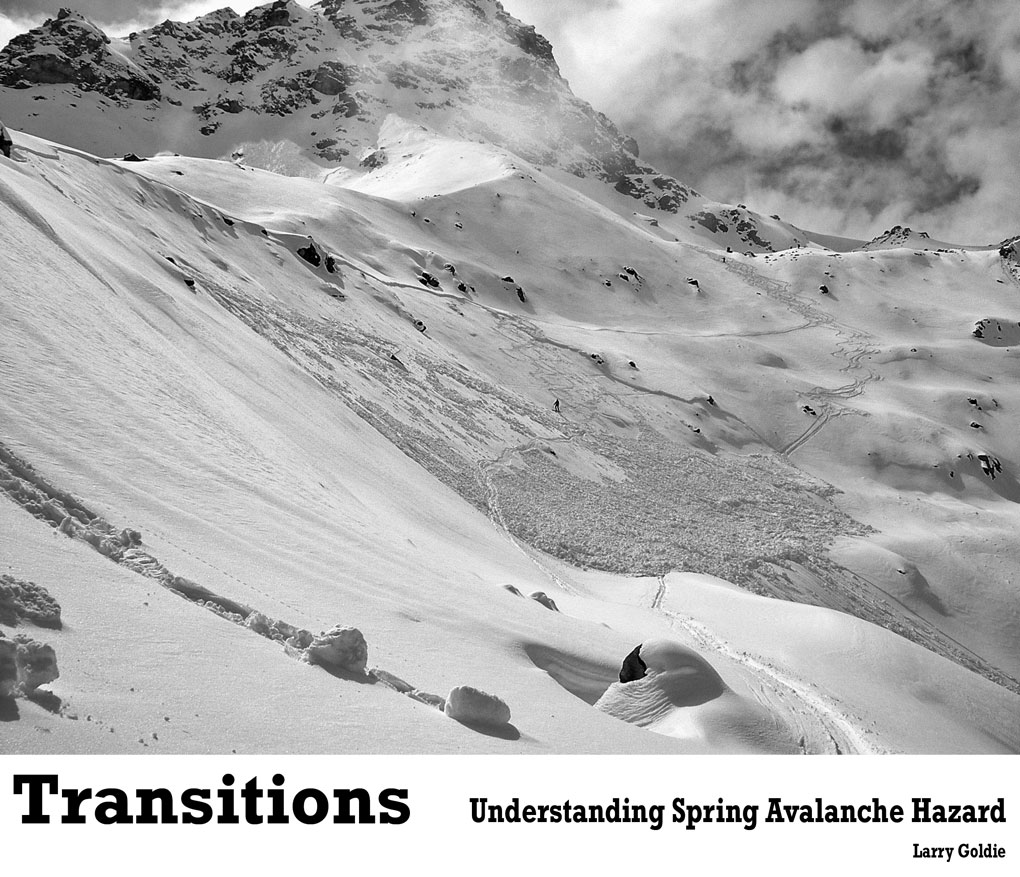 As winter transitions to spring, changes in the snowpack can take place at an alarming rate, catching even the most experienced skiers off guard. Spring avalanche hazard is every bit as important as winter. By the time March rolls around, the sun is significantly higher in the sky than it has been all winter. This increased sun angle can add heat to the snowpack at rate drastically higher than early and mid-winter months. While the snowpack is constantly adapting to change, it does best when change comes slowly. Rapid change is difficult for the snowpack to accommodate, and the quickest way for it to adjust to abrupt change is to avalanche, shedding weight off of its back.
Unlike nearly anything else in nature, snow lives its life extremely close to its melting point. Like any material, natural or man-made, the closer snow gets to its melting point, the weaker it becomes. Once snow gets above freezing, it rapidly loses strength and its ability to bond. Combine this lack of strength with more frequent melt freeze crusts in the upper snowpack, due to wide springtime temperature fluctuations from day to night, and we have an ideal bed surface just waiting for a slab to be created above it. Wouldn't you know it, throughout much of the Western US, March is the snowiest month of the winter, with powerful, moist storms tracking in off of the Pacific. Spring storms can bring incredible powder skiing, but the same powder snow can quickly turn into deep, dangerous mank as soon as the sun shines, often precipitating a rapid and alarming spike in the spring avalanche hazard, too.
Another factor that comes into play at a much higher degree with increased spring temps is snowpack creep. Gravity works on all layers in the snowpack, essentially exerting a downward pull on the snow, with the upper layers being pulled greater than the lower layers. Studies have shown that strong daytime warming can exponentially increase creep in the upper layers, which, in turn, can dramatically, and very quickly, increase the avalanche danger.
Factors leading to potential wet slabs are relatively easy to recognize. The biggest single indicator is above freezing air temps. Especially important to watch for is when cold morning temps rise dramatically during the day. A rapid increase in air temp is compounded by the added heat of the sun, particularly on solar aspects. Pinwheels and roller balls are a classic early warning sign of melting snow surface and potential wet slab hazard (note the roller balls in the avalanche photo). As liquid water penetrates into the upper snowpack, it can lubricate buried crust layers. This process can easily be seen in snowpack tests.
One of the easiest ways to manage wet slab conditions is with timing. Spring storms often yield fantastic storm cycle skiing, but it's best to seek out safer terrain when the storm exits and the sun shines. Come late winter and spring, it's important to pay close attention to forecast freezing levels and plan to be on shady slopes as the temps increase. Timing in late winter and spring can make all of the difference, as it can be mere hours between the best skiing of the year and the worst.
As we get deeper into spring and winter-like storms taper off, the snowpack transitions toward a more predictable avalanche regime. Successive days of above freezing temps and below freezing nights allows free water to percolate down through the snowpack by day and refreeze by night, gradually strengthening the overall snowpack. Once this transition is complete (usually several weeks), the avalanche danger becomes more predictable, with the danger rising proportionally to the amount of time the sun has been on a slope. With spring consolidation, corn season comes into its own. Now, we follow the aspect around the compass, starting on the east facing slopes in the morning, transitioning to the south, then west and finally the north facing slopes later in the day. Spring skiing often involves early starts and early finishes. While the avalanche danger is much more predictable during corn season, a big red flag for increased hazard is multiple nights without a good freeze. Overnight refreezing is critical for the snowpack to gain strength, so pay close attention to the periods when it's not cooling down at night. These are good times to focus on other pursuits like rock climbing and mountain biking.
So, as winter begins its inevitable wane, giving way to warmer, longer days and less epic powder cycles, keep your backcountry brain engaged for the dangers of the transition period. Sun, rain, wet snow and warmer temps can all cause a dramatic and rapid rise in the avalanche danger. Wet slabs are some of the most destructive and potentially dangerous avalanches. If this season's storm pattern continues, we can hope for powder days well into April.
Just remember, deep powder can transition into polenta in a matter of minutes when the sun pokes out. Like everything in life, transitions are inevitable and should be embraced for the change in perspective they can offer. The trick is making sure you don't get sucker punched, because you didn't see it coming.
Larry Goldie is an IFMGA certified guide and co-owner of North Cascades Mountain Guides in Mazama, WA