Roller Ski Bags – The Only Way to Travel
A minimalist at heart, I travelled for many years with the most basic of ski bags for air travel; a single zip padded bag with a shoulder strap. I've looked on with envy at those with roller ski bags as they effortlessly negotiated the airport and car rental counters but have have never bought in until recently, and I'll never look back.
Last winter, facing ever stricter airline baggage regulations, I began to see the advantage of a roller ski bag that could accommodate more gear than my minimalist system. By upsizing the ski bag, I reduced the rest of my bags and got an easy-to-manage roller ski bag in the process. There are a variety of ski bags on the market and, in my opinion, if you are wheeled, you might as well get a double. You know, why have just one pair of skis when you can have two.
There's no question that it's easy to max out the weight of a big double ski bag if you're not careful, but with some packing limits and a good carry-on bag, you can stay under 50 pounds. I've even been able to run the ski bag as my only piece of checked baggage in many situations.
Here are the two best roller ski bags that I've field tested.
Dakine Boundary Double Roller Ski Bag $220

The Dakine Boundary is more than a roller ski bag; it's a rolling locker room for your ski gear. This thing offers all the space and padding you could want for a couple pairs of skis and then some. But the best part of the Dakine Boundary ski bag is the extra compartments. It is outfitted with three additional storage zones, and they are perfect for packing backcountry gear like your shovel, probe, ice axe, skins and such. The compartments are designed to accommodate your boots, but I prefer to carry my boots on the plane, so given the worst-case-lost-luggage scenario, at least I have my boots.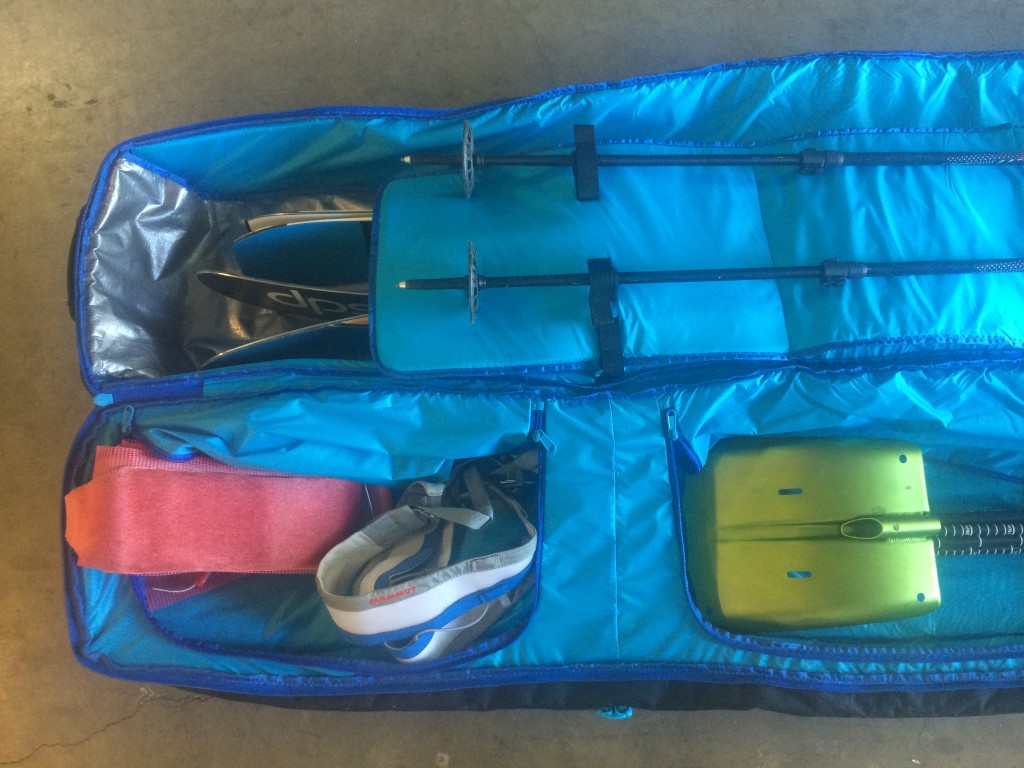 Given all its space and organization, the Boundary roller ski bag is literally a locker from which you can live while on a ski trip, keeping all your gear where you can easily lay your hands on it. The wheels are bomber and the bag is well padded with just enough structure to keep its shape.
Of course, with all the space in this bag comes the burden of filling it at the risk of going over airline weight limits. The bag alone weighs in at 10 pounds on our scale (2 lb less than listed by Dakine), so you need to keep an eye on the 50-pound mark once packed, especially if you are packing heavier alpine ski set-ups. I've had good luck running two pairs of lighter backcountry skis plus all of my associated gear and staying well under the 50 pound mark.
The Dakine Boundary roller ski bag is hard to beat for gear junkies traveling by air. Just be ready to control the urge to throw in more than you really need.
There are a few small details on the Dakine worth noting: great handles on either end for hauling and lifting, nice wide cinch straps for battening down the hatches, plus a spot to secure your ski poles separate from the skis. This is one deluxe traveling companion.
2019 UPDATE – the model featured here is from 2017-2018. The 2019-2021 version eliminates the built-in pockets and adds two removable gear bags that allow storage of boots or touring gear like skins, shovel, probe as well as two external zip pockets for smaller, soft items like gloves, skins, etc. Overall storage capacity remains the same with a little extra versatility for organizing your gear once at your destination.
Check prices on the Dakine Boundary roller ski bag at bc.com
Thule Round Trip Double Roller Ski Bag $259
The Thule Round Trip Double roller ski bag is a little smaller than the Dakine, but no less burly. I've used several of the Thule luggage products over the years and they are built to last; this roller ski bag is too. There's plenty of space to pack two pairs of skis, and it's got all the right straps to secure them in place for a safe journey.
The big difference from the Dakine Boundary is the Thule has less built-in space for additional gear. That said, it still has enough space to hold your backcountry safety gear and then some, just not all of it in dedicated compartments. There is a nice large mesh pocket inside the bag with space for skins, a shovel and a probe. If you hope to pack more gear into the this roller bag, it needs to go in the main body. I've easily packed in my outerwear, gloves and misc ski touring gear. In fact, you can probably fit your boots in it if you only load a single pair of skis, but everything needs to be layered in the bag with your skis.
As with any large ski bag, it's still easy to stuff too much in the Thule Round Trip Double Roller Ski bag and risk having overweight baggage. Again, prudent packing and the old trick of carrying your boots on board the plane will help reduce the weight issue. The Thule bag weighs in at about eight pounds, so its a little lighter than the Dakine, which means that's a couple more pounds of gear you can cram in the Thule!
The wheels are bomber and the bag has plenty of padding to protect your gear from the baggage handlers. It's a solid option for a double roller ski bag that's not over-the-top big.
Check price and availability on the Thule Round Trip Double Roller Ski bag
SHOP FOR OTHER ROLLER SKI BAGS and support Off-Piste Mag!
purchasing through the product link helps support the site