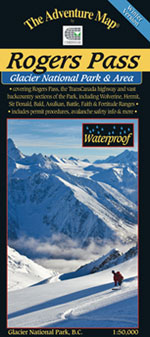 Adventure Map – Rogers Pass
Given GPS enabled phones and Google Earth, one might ask who needs a traditional folding map?  Modern technology can be awesome, but paper maps are multi-purpose planning, navigation and entertainment tools. A good map of the area should be considered required equipment when visiting a new place. The Rogers Pass Adventure Map (winter version) offers a 1:50,000 scale overview of some of the most outrageous roadside attraction skiing in North America. It's ideally suited to plotting day trips and multi-day ski touring adventures from the classic trailheads along the Trans-Canada Highway through Rogers Pass.
The map doesn't layout actual tours, but it does label all 20 of the Rogers Pass Winter Permit System areas set up by Parks Canada. It also highlights designated parking sites and 46 commonly recognized ski touring destinations. All of this information is essential for visiting backcountry skiers. It lets you cross reference locations and conditions reports found at the Rogers Pass Center, and it's important to understanding which zones are open for ski touring and which are closed for avalanche control work or high avalanche hazard.
Designed for field use, the map is made from waterproof and tear-resistant material that will stand up
to many a stormy ski tour and repeated backpack abuse. The backside of the map offers a variety of history and basic facts about Rogers Pass as well as avalanche safety information plus basic beta on some of the most popular winter routes. It's a nice companion for trip planning and in-the-field reconnoitering.  Chrismar Mapping, $15 www.chrismar.com