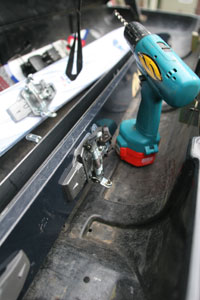 Rooftop cargo boxes are a great way to haul skis and keep your gear out of your vehicle. I have a Yakima Rocketbox and I use it all winter long (and then some), but I have found that my ski edges often rust when I leave my skis in the box for multiple days. Basically, snowmelt from the skis pools in the base of the Rocketbox and the skis end up sitting in water and the edges rust. The problem is particulary noticable when I haul multiple pairs of skis – more skis equals more snow to melt.
So, I came up with a quick fix to eliminate the problem. I drilled drain holes in the bottom of the box with a 1/4″ drill bit. The holes allow the snowmelt to drain away and my skis no longer have to sit in puddles of water, problem solved. The water issue may be more pronounced in the Northwest where the temps in town are often near or above freezing, but the modification does not compromise the box and will help keep the inside of your ski box dryer, regardless of where you live.
I drilled my box while it was mounted on the roof of the car. This worked fine but, obviously, you have to use a level of caution so you do not  put drain holes in the roof of your vehicle. If you do not trust yourself, pull the box off the car or create a stop on the drill bit with duct tape. I simply drilled holes in the low areas of the box (see photo). All told, I have about ten holes. Happy drilling.
shop for deals on ski cargo boxes from Yakima, Thule and others and support Off-Piste Mag