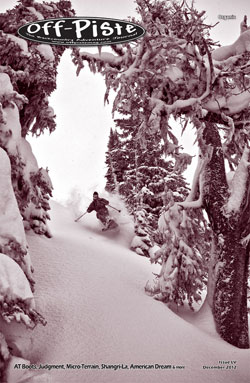 The days are getting noticably short on daylight and the flakes are finally beginning to stack up around North America (although they are bit wet in these parts at the moment) and Issue 55, December 2012, is in the mail!
Although not fully intentional, Issue 55 revolves around dreams – dreams of backcountry shelter in one form or another. From Colorado to the Pacific Northwest to your backyard stash anywhere in the world, the dream of overnight shelter adds a great dynamic to a day in the backcountry and the December issue of Off-Piste explores the dynamic and the dreams.
We also continue our dedication to avalanche safety education with a look at micro-terrain and the role terrain features play in choosing safe terrain to climb and descend.
We offer an in-depth look at seven pairs of alpine touring boots from La Sportiva, Garmont, Dynafit, Scarpa, Black Diamond and Tecnica. We promise you more information than you ever thought you wanted to know!
There's plenty of backcountry ski news, ski movie beta and, with the holidays on the horizon, Grumpy Old Shop Guy comes through with some time-tested gear shopping advice. Get your copy today