Mountain Coloring Book for Outdoor People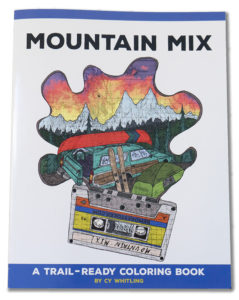 A wide variety of outdoor gear and related stuff comes across our desk over the course of a season, but this is the first time we've ever seen a coloring book. It's a mountain coloring book to be specific. And, believe it or not, it's worth a look.
The Mountain Mix Coloring Book is a project by Cy Whitling. Whitling has been living the mountain life – skiing, riding and exploring – all the while building his collection of cool sketches and adventure-related art. The result is the Mountain Mix Coloring Book Project. I say project because, he's still working to bring it the masses and it's on Kickstarter in search of funding right now. It might sound a little hokie, but we like it. In fact, anyone who likes to doodle or draw, will likely dig it, too.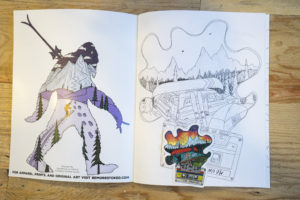 It's 36 pages of creative mountain drawings ready to be colored in by you. They range in complexity and theme from detailed landscapes to creative adventure scenes including, my fave, Bigfoot carrying skis.
It's obvious, Whitling is a true outdoor guy – and a talented artist to boot. The Mountain Mix Coloring Book is a cool, original and creative project – and you can help make the it a reality by supporting it on Kickstarter before April 25.