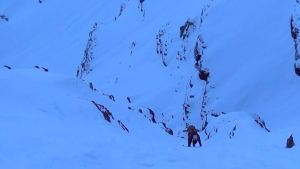 The freeheel stoke lives on . . . for those who thought telemark skiing went the way of mono skis and rubics cubes, here's the second infusion of freeheel stoke from Jake Sakson – the "last remaining professional big mountain telemark skier" (those are his words).
In this episode, telemark skiers Jake Sakson and Morgan Boyles tackle two of Colorado's classic ski mountaineering lines. As the biggest mountain in their home range, the exposed lines on South Maroon and North Maroon peaks provoked dreams and, after a few failed attempts, the freeheel duo finally nail both. Daylight and fancy headlamps are overrated . . .
Beans and Rice Episode 2: The Maroon Bells from BeansandRiceFreeride on Vimeo.
Inspired to make the most of your telemark skiing? Check out telemarkfreeridecamps.com.