The Dynafit Patrol Jacket is a lightweight, minimalist shell designed for all-weather touring using Gore-Tex Active 3-layer fabric. As a longtime softshell jacket convert, it's the rare day that I seek the protection of a waterproof / breathable Gore-Tex type shell. So, when the Dynafit Patrol Jacket arrived at the office, I wasn't convinced of its utility. Nonetheless, it was noticeably light; in fact it weighs a mere 340 grams – as light or lighter than most softshells I've worn. It's also relatively soft and un-waterproof feeling for a full Gore-Tex membrane shell. Bottom line, waterproof / breathable technology has made big strides in the flexibility and breathability spectrum in recent years. The Patrol Jacket is so clean and simple in its design, that it deserved some honest testing, and I'm happy to report that it has exceeded my expectations on all fronts.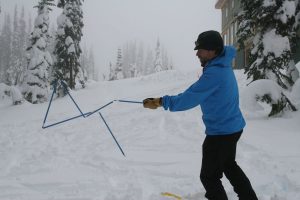 I have run it through a full two weeks of daily touring in conditions ranging from wet and windy storm cycles to classic clear and cold high alpine touring days. I'll say right off the start that it does not breathe as well as a softshell, but I am impressed with well it does breathe. Gone are the days when wearing a waterproof / breathable shell needs to feel like putting on your armor and marinating due to limited breathability. The 3-layer Gore Active fabric is impressive. It's light, dynamic and unrestrictive in its feel. It breathes reasonably well and promotes natural movement. Combined with a practical design on Dynafit's side, the Patrol Jacket is is well suited to aerobic pursuits.
Two simple chest pockets, a helmet compatible hood, a trim cut and thumb holes at the cuffs set the minimalist design. There's no unnecessary zippers, pockets velcro straps or draw cords, just a functional shell designed with modern ski touring in mind. The thumb loops help keep the cuffs tucked into gloves without fanfare. The Dynafit Patrol Jacket is very light, feels great, packs super small and adds neglibable weight to your pack. Dynafit's foray into the North American clothing market is off to a great start. Their choice of materials and craftsmanship is topnotch and the Patrol Jacket is an excellent choice for all-weather mountain pursuits.
Shop for a deal on the Dynafit Patrol Jacket


Dynafit Patrol jacket on sale at bc.com 55% off!