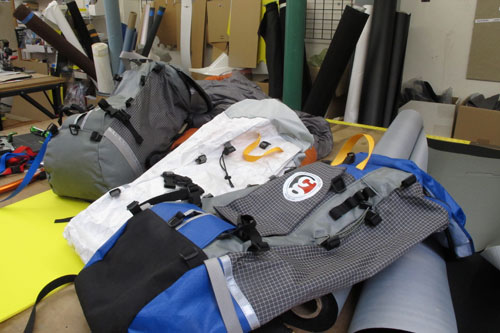 Continuing with our side project to visit and highlight local and regional ski related businesses, I recently made a trip to backpack maker, CiloGear, located in Portland, Oregon.
The small, independent pack company is named after the Cilo Mountains, a remote range in southeast Turkey where Graham Williams, owner and founder, actually spent time climbing while living and working in Turkey. Today, CiloGear occupies space in an old Columbia Sportswear factory in North Portland where they (actual humans) design and build a wide variety of backpacks plus a few travel and urban bags. They've been building packs commercially for nine years.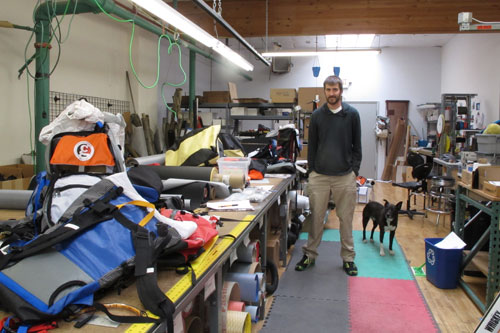 According to Williams, CiloGear is a "lean manufacturer" meaning they build packs when ordered. This not to say they make custom packs, but rather they offer a stock line
of packs that are assembled and sewn in their Portland facility as they are ordered. Williams showed me around the shop on a Saturday afternoon offering a first-hand look at the process. Utilizing a one-piece flow, they prep and stock a supply of pieces and parts for all of their packs (many share components). When an order for a pack comes in, the crew collects the requisite components from the stock on hand and begins the final sewing process. Williams said they average about 6-10 packs a day and customer wait times vary from just a few days to a couple weeks depending on their current workload. The one-piece flow process is very efficient and CiloGear takes every step possible to reduce material waste throughout their pack building process. By batch producing the pack components, they are able to keep wasted fabric to an impressive minimum – literally just tiny pieces.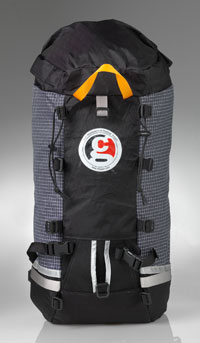 Cilo Gear's focus is creating lightweight, practical packs with a decidedly minimalist style. They utilize quality materials, including Dyneema and Cordura laminated five-ply  with Dacron X-Pac. All packs utilize their signature d-ring compression strap system, which allows you to custom configure the compression straps and various ski/board carry systems (on ski packs). The packs are impressively lightweight and bomber in feel. Given the collection of well-worn packs hanging in the corners of the shop that have been on a variety of international climbing expeditions, the packs are built to withstand serious abuse.
Williams walked me through the ski pack line, which includes five models ranging from 30 to 45 liters in volume. I've been able to get out and ski with a ClioGear 30Z a couple times, and it's included in a full ski pack review in the December 2013 issue of the mag (due out Dec 2).  In brief, the 30Z is a traditional top-loader with a small design twist – a zip-closure lid. Think trad top-loading shape and access with a lid that zips closed. It's a lightweight, minimalist pack with surprising versatility. It features CiloGear's signature d-ring strap system to customize compression and ski or board carry options. The pack's narrow profile, lightweight construction and minimalist design are in lockstep with the priorities of many backcountry skiers.