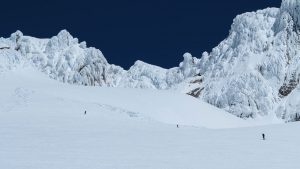 Cascade volcano skiing season is going to be a bit shorter than normal this season due to the low Pacific Northwest snowpack this winter, but the access is opening up earlier than normal. Most access roads are snow-free, but a couple primary ones remain gated as of this week. I'd think this should change soon. In the meantime, you can pedal these roads for an added dynamic to your adventure. There is still great skiing to be had up high. New snow the past couple weeks was a bit unconsolidated earlier this week (4/27) but should be settling out and corning up nicely with the current forecast for clear weather, cool nights and warm days.
Here's what we know:
Mt. Hood – North side Cloud Cap Road (FR 3512): Road is closed and gated at the bottom by the Tilly Jane trailhead (trail 600A). I'd hope to see this open soon. In the meantime, be patient and use the Tilly Jane Trail or pedal the road to access spring classics like the Snow Dome, Langille Bowls and the Eliot Glacier. The snow above 6,000 ft is pretty good at this point but almost non-existent below 5k.
Mt Hood National Forest road status link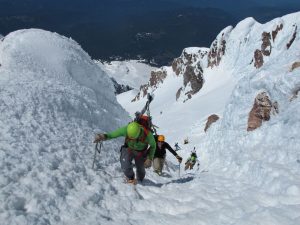 Mt. Adams – Southside climb access (FR 8040): The access road is open all the way to the Climber's Trailhead on the south side. Reliable snow coverage begins at the trailhead, but it's melting fast below treeline.
Latest Mt. Adams climbing conditions report and details on climbing permits from Mt Adams Ranger District
Mt. St. Helens – Southside Climber's Bivy (FR 830): Climber's bivy road access is still closed (for maintenance according to those Mt. St. Helens National Monument), but the normal winter access – Marble Mount/Worm Flows access is open, however there is not reliable snow until 6,000 ft, so be prepared for some walking. UPDATE MAY 8 – CLIMBERS BIVY IS OPEN!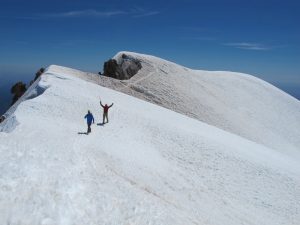 Latest Mt. St. Helens climbing conditions report and info on climbing permits from Mount St. Helens National Monument.