This winter, we took 10 backcountry ski packs for an extended spin. The line-up included ski packs from Arcteryx, Black Diamond, Cilo Gear, Deuter, Exped, Gregory, Jones and Mammut, Ortovox and Osprey.  Here are excerpts from the reviews and a link to the full backcountry ski pack review – pdf.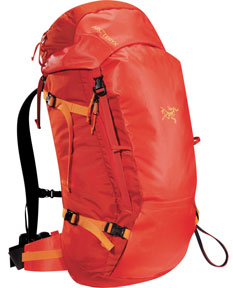 Arc'teryx Khamski 38; $299 Weight: 3lb
The newly revamped Khamski 38 is a bomber ski touring pack with a technical edge that's big on volume and low on gimmicks. Its top-loading design gives it a distinctly traditional feel, while the use of waterproof urethane-coated fabric on the front and top adds a high-tech element and helps keep your gear dry. It's sized for big days, light overnights and for those who need space for technical gear.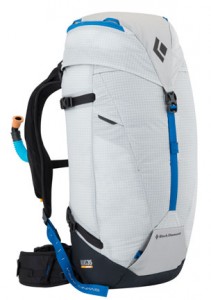 Black Diamond Alias Avalung; $279 ($169 without Avalung); Weight: 3 lb 12 oz
Redesigned for 2013, the new Alias offers a clean, simple design reflective of BD's alpine climbing packs but with added ski features. It's a traditional top-loader with a large main compartment, dedicated avalanche tool storage on the front panel plus a floating top lid with zippered pockets. It's available with or without the Avalung component. The Alias provides a tidy 35 liters of storage – well matched to day touring and perhaps more if you have a strong light-is-right streak.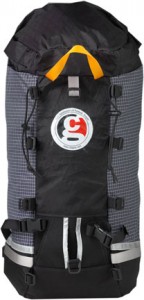 CiloGear 30Z Ski; $189; Weight: 2 lb 4 oz
Like all of CiloGear's packs, the 30Z Ski pack is made in Portland, Oregon. Though not a custom pack manufacturer, CiloGear makes all of their packs in their Portland facility. They maintain an inventory of prepped pieces and parts, ready to create any one of many stock designs as soon as it's ordered. The 30Z Ski offers a design variation on the traditional top-loader; it features a zip-closure lid. Think trad top-loading shape and access with a lid that zips closed. The 30Z is a lightweight, minimalist pack with surprising versatility.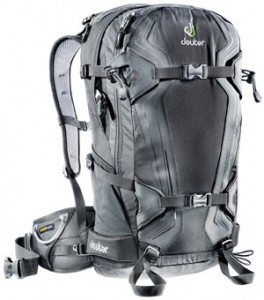 Deuter Freerider Pro $159; Weight: 4 lb
The Freerider Pro 30 has a couple seasons under its belt in the Deuter line. It's classic panel loader that works as well with snowboards as it does with skis. Although the pack only has two compartments – the main body and the avalanche tools zone – Deuter includes a variety of pockets and built-in organization to help keep your gear visible and accessible.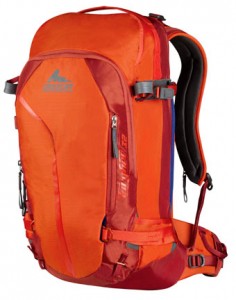 Gregory Targhee 32; $179; Weight: 3 lb 12 oz
The 2013 Gregory Targhee 32 is a trim, streamline fitting ski pack. Its panel-loading design provides a healthy 32 liters split between the main body, a dedicated avalanche tool compartment and a separate top pocket for goggles and other small essentials. All access is via zippered openings and the pack is set-up for ski and snowboard carry – designed with modern ski dimensions in mind.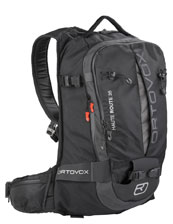 Ortovox Haute Route 35; $179; Weight: 3 lb 7 oz
The Germans put some serious design time into the Haute Route 35. That's not to say the pack is full of gadgetry, just the opposite is true. It's a clean and functional backpack that provides a surprising amount of storage for its size and a comfortable, secure fit.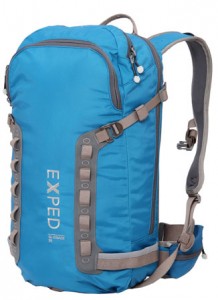 Exped Glissade 35; $229; Weight: 3 lb
Exped is not widely known for packs here in North America, but the Glissade 35 holds its own for functional design and key features amongst a group of die-hard ski pack designs. The Glissade is a roomy, zippered panel-loader with two additional compartments – a dedicated avalanche tools area and a large, fleece-lined goggle pocket. It's one of the lighter packs included here.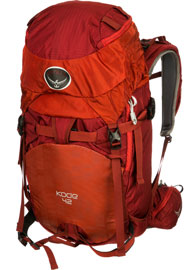 Osprey Kode 42; $170; Weight: 3 lb 14 oz
The Kode 42 is the flagship pack in Osprey's ski and snow line. Osprey has a reputation for designing packs that fit and carry as well as any bags in the business, and the Kode 42 does just that. It's a hybrid top-loader that adds a zippered back panel for unfettered access to your stuff. And, at 42 liters, there's plenty of space for a full day tour and then some – like the extra six-pack and burrito fixin's that are sure to make the first night at the yurt more fun.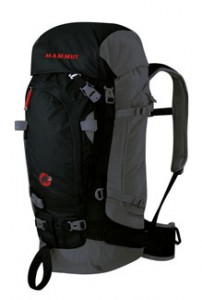 Mammut Spindrift Guide 45; $210; Weight: 4 lb 2 oz
The Spindrift Guide 45 targets users who need to carry a full load. At 45 liters, this pack has the largest capacity of the packs included here. It's also loaded with technical features to keep your gear accessible and organized. In the big picture, the Spindrift is a traditional top-loader well suited to guide loads, technical adventures and hut trips.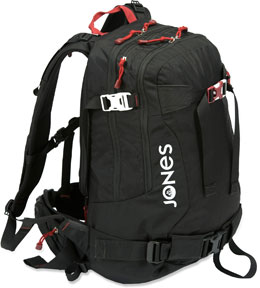 Jones 30L; $199; Weight: 3 lb 2 oz
Jones, the snowboard company founded by pro rider Jeremy Jones, may be focused on boards, but their 30L pack is equally as ski friendly. It's a basic panel loader designed around a main compartment and a dedicated avalanche tools area. It's fairly modest in volume but still hits the primary features with a focus on light weight and functionality.