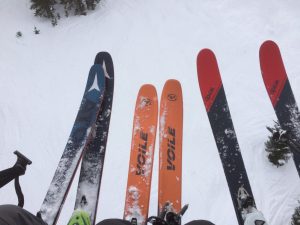 Spring ski testing is behind us! We tested and compared over 30 new backcountry skis in April.
Everyone rolls their eyes when they hear how much work is involved with ski testing – kind of like saying, ". . . and then we had to try another beer to compare flavors . . ."
Anyway, it is a fair bit of work trying all of the skis and zeroing on their respective personalities and target skier types. The first step in the ski test is deciding on which skis to include. We strive to include true backcountry focused skis. Eliminating the bulk of the crossover boards helps make for a manageable test collection and means we are comparing apples to apples, so to speak.
The testing sequence begins with a handful of skiers skiing every ski in the collection. Once every ski has been ridden and basic feedback recorded, we pick a smaller, select collection of skis for a second look and/or specific side-by-side comparison testing to further distinguish ski characteristics/personalities.  The whole process unfolds at the ski area (in this case Mt. Hood), so we can ride skis back to back in the same snow conditions each day.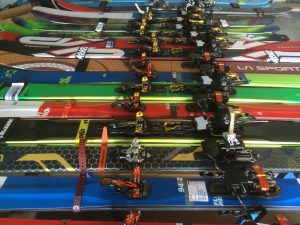 As much work as it is to constantly adjust bindings, check for boot center mounts and keep skis waxed and ready for spring conditions, the real effort begins as we collect and compare the written results in order to come up with detailed written comparisons that actually speak to a ski's strengths and weaknesses. Generally speaking, each ski model is designed with a certain skier/type of skiing in mind. Marketing propaganda aside, zeroing in on a specific ski's intended use/market is the focus of our testing. One's eyes get a little blurry juggling all the ski specs and on-snow comments in search of a clear picture of each ski, but we are working through the details now.
While the all the high-powered ski review science unfolds in the background, I thought I'd share a few general highlights from the testing.
Ski Construction/Weight: Hands down, the single most common theme among backcountry ski manufacturers is the pursuit of new lightweight constructions with a noticeable increase in the use of carbon fiber. It's no secret that carbon fiber can be used to create lighter weight skis, companies like Goode and DPS have been using it for years. Ski designers from all manufacturers have been hard at work experimenting with materials/construction techniques and skis are lighter and more capable than ever. In general, carbon fiber laminates replace fiberglass/epoxy laminates and allow skis to be designed and built using lighter woods and thinner wood cores while still allowing ski flex to be fine tuned to meet design/use specs. The days of carbon fiber construction translating to stiff are over. Carbon fiber works and the majority of skis tested use carbon fiber to some degree.
Ski Dimensions/Width: Unless you've been sleeping under a rock the last 10 years, you've witnessed the growing width of skis. Though big 120mm+ underfoot skis still exist, the bulk of the backcountry market has settled into a more utilitarian width range underfoot of say the mid 90's – 110 or 112 millimeters. And, this season, there's a noticeable focus on the 94-106mm underfoot width range; it's the new all-mountain spec. We tested several new 95mm waisted skis this spring that preformed really well.
Rocker: Rocker is no longer something only found in powder skis; it is the norm on most skis. The simplest definition of rocker is to say that tip or tail rise begins before the tip or tail reaches its widest point (learn more about rocker here). Combined with camber and sidecut, rocker is an important design characteristic to consider when comparing skis. Today, most skis feature tip and tail rocker – albeit at varied degrees – but there are a few designs that feature more traditional tails in an effort to offer a longer radius and more traditional carving finish. That said, there are plenty of full rocker skis that manage to carve well in firmer condition. The traditional tail delivers a noticeably different personality and some situations and skiers prefer the full carve feel of trad tails.
If you're a up for a real techie discussion on ski design, materials and more, check out this podcast from BlisterGear that brings together ski designers from DPS, Moment, Armada, Blizzard and Line for a roundtable discussion on ski design.