Ultralight Insulated Jacket – Patagonia Micro Puff

Down vs Synthetic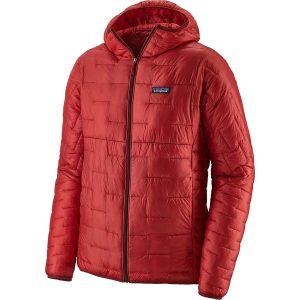 A  puffy or insulated jacket is essential gear for backcountry skiing. Ask a skier if they prefer down or synthetic, and you'll find less consensus. While synthetic insulation is more durable, stays warm when wet and is better suited to the repeated stuffing and re-stuffing that a puffy experiences in the life of a skier, nothing beats the warmth to weight ratio of down insulation. Down jackets are just lighter, warmer and pack smaller than synthetic fill equivalents. Enter the Patagonia Micro Pufff Hoody with PlumaFill – a featherweight down alternative that's very close to the feel, loft and compressibility of down plus has the aforementioned benefits of being synthetic. In fact, Patagonia claims the Micro Puff Hoody has the best warmth to weight ratio of any jacket they've ever built – down or synthetic.
Patagonia Micro Puff – High Loft, Low Weight
Patagonia has a series of lightweight synthetic insulated Puff jackets – the Micro, the Macro and the Nano. The Micro Puff is the lightest and most packable jacket in the series. It owes its weightless feel and packable design to PlumaFill insulation – a featherweight synthetic insulation with loft and warmth qualities that actually rival down. Add an ultralightweight Pertex Quantum shell material, and you've got one heck of a light, compressible jacket. The main story is PlumaFill and the special quilting pattern Patagonia developed to take full advantage of its loft and insulation properties (read more about PlumaFill and Patagonia's in house testing). In addition to its impressive warmth to weight ratio, PlumaFill handles exposure to the elements and longterm packing and re-packing without losing its loft or insulation value. Bottomline, PlumaFill looks, feels and performs like down insulation. The Micro Puff has gone directly to the top of the jacket rotation pile in my gear closet.
Pack Light. Stay Warm
The Patagonia Micro Puff Hoody is well-suited to ski touring. Its ultralight, packable design keeps your backpack lighter and smaller without compromising too much on warmth. It's the layer I pull on for skin transitions, ridge-top breaks and sometimes for the descent. The Pertex shell material is pretty delicate and not very breathable, so it's not an ideal layer for extended activity or bushwhacking (looking for breathable insulation, check out the Arcteryx Proton LT or Patagonia Nano Air). As for warmth value, it's not a base camp jacket. It's more like a down sweater with a warmth rating similar to that of the Nano Puff – or a bit warmer. If more warmth is what you're after, the Macro Puff is the warmer cousin of the Micro with double the insulation in the body and a slightly heavier shell material.
Why Carry More than You Need To?
No one wants to carry more weight in their pack than necessary when ski touring, hiking, climbing or bikepacking. The Patagonia Micro Puff Hoody is a jacket for those looking to shave ounces. It's ultralightweight, water-resistant and self-stows into a pocket. There are warmer insulated jackets on the market, but few that balance warmth and weight like the Patagonia Micro Puff. It's so light and small you could probably double up on the Micro (or at least add the vest version) and still come out ahead on space and weight. Of course, your wallet would be a fair bit lighter, too.
---

Micro Puff Options
Micro Puff Hoody 264 g (9.3 oz) $299 check prices at backcountry.com
Shell and lining: 0.7-oz 10-denier 100% nylon ripstop Pertex® Quantum
Insulation: 65-g PlumaFill 100% polyester
Looking for warmer but still lightweight? Check out the Macro Puff:
Macro Puff Hoody 434 g (15.3 oz) $399 check prices at backcountry.com
Shell and lining: 0.8-oz 10-denier 100% recycled nylon ripstop
Insulation: 100% polyester 135-g PlumaFill (body); 90-g PlumaFill (side panels and sleeves)
Need light but a little more durable? Check out the Nano Puff:
Nano Puff Hoody 363 g (12.8 oz) $249 check prices at backcountry.com

Shell: 1.4-oz 20-denier 100% recycled polyester ripstop
Insulation: 60-g PrimaLoft® Gold Insulation Eco 55-100% postconsumer recycled polyester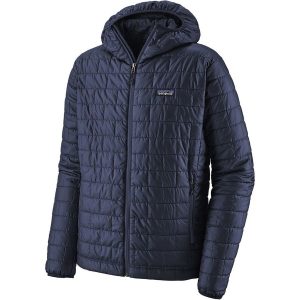 support offpistemag.com when you shop for lightweight synthetic insulation through our links.