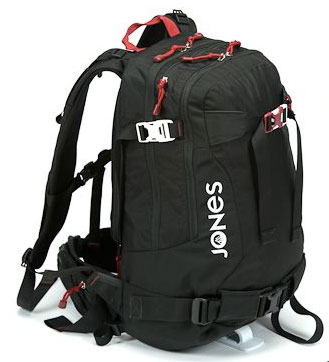 I first took notice of Jeremy Jones when I saw the TGR film Deeper. Jones takes his passion for riding and applies it to the backcountry with the approach of a professional. His 2012 TGR film, Further, is also an example of quality earn-your-turns footage with a good perspective, not simply the normal go-big TGR attitude. Of course, Jones and his crew ride some serious lines, but they are climbing them first and there is far less gratuitous airtime and heli recon than you might expect.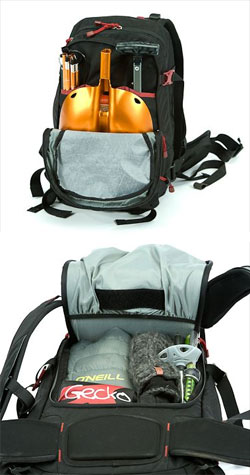 Given his dedication to backcountry and splitboard riding, I decided it would be interesting to check out the Jones 30L backpack designed for touring, and I was pleasantly surprised by what I found. Although a little small on volume when compared to my typical day touring pack (a 40 liter pack), the Jones 30L is a clean and functional day pack designed with dedicated backcountry skiing and riding in mind.
The features list is long, but the design of this clamshell style pack is simple and user-friendly. You'll find a dedicated avy tools compartment to hold your shovel blade and handle plus your avalanche probe, a small and lined goggle/gadget pocket, zippered back panel access and a roomy main compartment. Of course, the pack is designed to carry a snowboard, but it also carries skis just fine, too. It's hydration compatible and is designed to accomodate the hydration tube inside the shoulder strap to help reduce waterline freezing.
Overall, I'd rate the fit very good for small and medium sized skiers, but it's shorter length runs a bit small on longer torsos. The twin hip belt pockets are roomy and accessible, while the overall suspension system is lightweight and well-suited to day touring loads.
The Jones 30L Backpack is a clean, no nonsense pack. I like the simplicity of its design; there's no superfluous straps or design features to solve unknown problems, just clean, easy to access storage and a straight forward suspension system that carries close to the body and stays put when descending. It could be a little bigger to suit my personal packing needs that often include packing a full SLR camera plus an extra lens or two, but it's got enough volume to get you out for a day of skiing with your essential layers, avy tools and food/drink needs.
Support Off-Piste Mag when you shop for ski packs