Off-Piste Mag 2017 Ski Reviews – Editors' Choice Round II

Here is our second round of 2017 ski reviews and Editors' Choice picks. We've got three boards that you should consider for your backcountry touring needs. We'd gladly consider any of these boards for a day of slashing the pow and you should too.

DPS Wailer 112 Tour 1
141-112-128;  178cm, 3kg, $1050
The Wailer 112 is well-known and well regarded. The unmistakeable big yellow board has made its way into many backcountry quivers. Last season, DPS introduced the lighter weight Tour 1 edition and dropped a pound per pair from the popular ski, making it a clear choice for dedicated touring. The light swing weight of the Tour 1 design encourages big tours and a one-more-lap mindset while still offering the trademark funhog playfulness that defines the popular Wailer 112RP  personality. Big arcs, buttery slarves and bounding through tight trees are all on the agenda with the Tour 1 Wailer 112. It should make the short list for anyone in search of dedicated touring board with soft snow bias.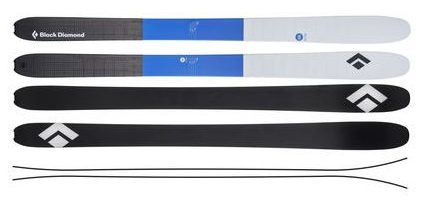 Black Diamond Helio 105
132-105-119, 175cm, 2.9 kg, $850
Black Diamond introduced a new ski program for 2017. They've jettisoned their Asia manufacturing and contracted with Blizzard in Austria for their new Helio skis – a four model line of carbon/wood construction boards featuring a more traditional shape than their previous offerings but still sure to tun the head of  any self-respecting gram counter. There's no hiding that the Helio line holds some strong design similarities to the Blizzard Super G line. Nonetheless, they were a little different. The Helio 105 was our top pic from the Helio quiver. It was the most balanced in performance and held a strong turn throughout its arc in a range of conditions. They are light underfoot and, though the lightness rears its head when pushed into variable conditions, the 105 does well for a lightweight. Traditional camber underfoot is paired with modest tip and tail rise for a feel that offered solid control in carvable and soft conditions. The Helio 105 will make a solid partner for light-is-right skiers who prefers carve over slarve.

La Sportiva Vapor Float
140-117-128, 178cm, 2.8 kg, $1300
If the words Vapor and Float don't conjure up images of cold smoke billowing in your wake, you best have a second cup of coffee. Building on their Vapor  ski line-up, La Sportiva adds a powder-centric board to the quiver for 2017, the Vapor Float. The same carbon nano-tube construction that gives the Svelte and Nano their superlight swing weight keeps the Float to a remarkable 2.8 kg per pair. At 117 underfoot, the Float is not trying to be a quiver-of-one; it's a powder ski for the light-is-right skier who knows how to take charge of a lightweight ski. Think deep pow and think floatation – actually, you don't really have to think too hard; the Float makes short work of anything soft. It does not necessarily have to be deep, either. The ski's light construction means you can match it to a modest boot – one of the few skis in its width class that skis well with a light touring boot. The Vapor Float will top off your quiver with the ultimate in ultralight powder surfing.
Shop bc.com for your quiver-of-one backcountry ski or see what's avail at rei (free shipping in skis until feb '17)