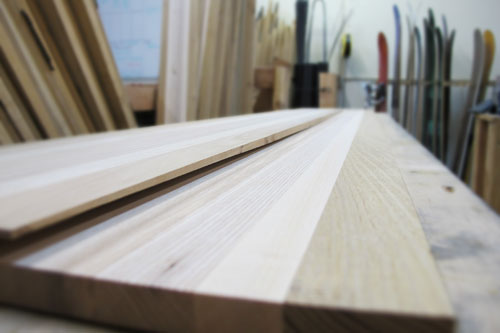 Continuing with our side project to visit and highlight local ski related businesses, I recently made a trip to new boutique ski builder, Deviation, located in Gresham, Oregon, not far from the flanks of Mount Hood.
The crew behind Deviation hails from various locales but chose the Portland area to centralize and launch their brand of made-to-order boutique skis and snowboards given its proximity to year-round skiing on Mount Hood and the region's reputation for and support of handcrafted product culture. Co-founders and brothers, Tim and Peter Wells, set up shop in their Gresham workshop about 14 months ago and began turning out all-wood core skis and snowboards, all designed and engineered in house.
According to ski design and production guy, Peter Wells, "We handle everything in house from start to finish and source as much of the materials as we can [including the wood core stock] locally or regionally." Deviation uses three woods in their core construction: Ash, Bass and Locust – each chosen for its specific qualities. The cores are glued up, trimmed, shaped and skis pressed on site. Even the graphics are printed and sublimated in the shop – truly boutique skis. Having everything in house, according to Wells, "… means we control the whole process and can offer a high degree of customization."
Deviation offers five stock ski models (three men's and two women's) and two snowboards. They've got stock graphics, too, but are happy to do custom graphics as evidenced in the custom Powderwhore model they built up as a promo for when the Powderwhore film tour stopped in Portland.
Although Deviation has yet to develop a lightweight backcountry minded model, all of their skis are metal-free and reasonable in weight. We look forward to putting a pair to the full test on snow once the season gets rolling here in the Northwest. We'll be sure to let you know how it goes. www.deviationusa.com