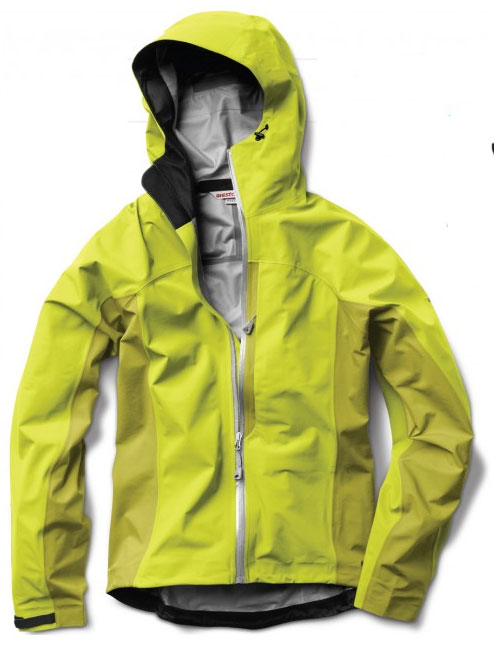 For me, waterproof rating takes a backseat to breathability when it comes to a good backcountry ski jacket.  Although waterproof and breathable are not mutually exclusive, I hold superior breathability to be more important than 100% weather protection, even here in the Northwest. The Westcomb Shift LT Hoody with Polartec NeoShell has me believing I can have both. Westcomb may not have the name recognition of larger outdoor apparel companies, but this Canadian company, formed in 2005, is creating top tier products worth your time.
The Shift LT Hoody is a backcountry enthusiasts dream piece. It's light (less than a pound), waterproof, breathable, compressible, quiet, and stretchy. Match these ideals with great fit, clean minimalist design, comfortable / adjustable hood, and bomber top-notch construction methods and you have a very worthy mountain companion.
The Polartec NeoShell Fabric shines in this piece. It is every bit as breathable as early soft shell pieces and totally waterproof. Numerous field reports from publications like Outside Magazine and Popular Science have been testing NeoShell head to head with Gore products and giving the breathability nod to NeoShell. I also found the DWR coating to be top notch and water just beaded of the jacket like an otter pelt. Just a few short years ago; this level of protection would have come with a much more substantial cost in weight, breathability or both.
Testing this summer took the Shift Hoody mountain biking in the Cascades, sea kayaking and peak bagging in Seward Alaska, and backpacking in the Wallowa's. After 25 days of use the jacket shows no sign of wear, no seam issues, all zippers function flawlessly, and did I mention how light it is? All summer long I have received positive comments and inquiries about my jacket from fellow travelers, especially in Alaska where the jacket was enviously viewed by the other members of my party (those would be the wet ones) after the third straight day of Alaskan liquid sunshine.
Overall, I can't imagine an outdoor activity the Shift Hoody wouldn't be ideal for, and it's so light you won't be tempted to leave it behind. – Michael Becker
Westcomb Shift LT Hoody – $400 – 11.94 oz – www.westcomb.com