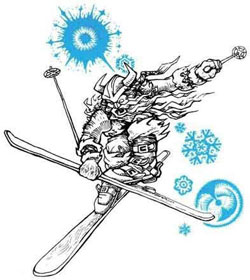 You know the feeling – you are on your skis working the rhythm, enjoyin' the speed – and suddenly, for a few turns, you feel immortal – you channel the energy of Ullr himself.  Ullr, god of choice among Scandinavians and backcountry snow lovers alike – is a pre-Viking era Norse God who kept fine company with the likes of Odin, Thor, Skadi and others.
Among his many skills, of course, is skiing.  His name is often invoked in the name of snow and praised in hopes of more snow. However you use Ullr's name, his image invokes strength and power in the mountains and has graced the pages of Off-Piste Mag on more than one occasion.
I am always in search of cool ski and mountain culture related artwork for the mag, and one of the first artists I ever worked with was Scott Dickson. Based in Nelson, BC, Scott's creative illustration and design work has run on the pages of national magazines, billboards, moto and bike helmets and even mountain bikes – not to mention our first-ever t-shirt design.
One of Scott's first illustrations to appear in the pages of Off-Piste was a freeheel skiing Ullr that we ran twelve years ago. The image still generates e-mail inquiries when people stumble accross it in our online archives (it's in issue 6, by the way).
Well, Scott is now set up so you can easily purchase his work as prints, cards, even iphone covers! His work appeals nicely to the ski and mountain afflicted user, and he's got some killer images of scenes around Nelson, too.  Now's the time to stock up on the long sought after Ullr holiday card or get some mountain inspired imagery for your walls of your cave.