Backcountry skiing is a highly aerobic pursuit. Finding the right combination of layers or lack there of is key to managing your temperature and breathability while ski touring. Beyond your base layer, you need to consider a lightweight insulation layer depending on the conditions of the day. I've been running several different lightweight technical fleece layers this season including a Mountain Equipment Eclipse Hoodie, a Stio Gannett Peak Hoodie and a Voormi High-E Hoodie – all three are distinctly different takes on mid-layer insulation.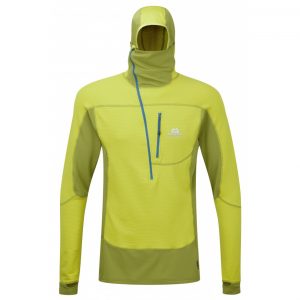 Mountain Equipment Eclipse Hoodie
Polartec® Power Dry® 200
$180
Mountain Equipment is a UK based outdoor clothing company that makes high-end technical clothing for mountain pursuits. It is not to be confused with Mountain Equipment Co-op based in Canada. Mountain Equipment's market share in North America is small when compared to the likes of Patagonia, Outdoor Research, Arvteryx and such, but their products are definitely high quality and designed for true mountain use.
The Eclipse hoodie is the most technical piece of the three included here. It is a lightweight technical fleece designed for cold weather aerobic output. The Polartec® Power Dry® 200 is industry standard for high-performance, low-bulk fleece insulation. It features a waffle texture on the inside to help trap heat and facilitate breathability. The Eclipse adds Power Dry® 160 panels under the arms for targeted breathability and reduced overall weight.
In use, the piece is remarkably warm for its light weight and modest bulk. The cut is slim for close-fitting technical performance and is designed to be layered over. The hood and zip-neck are designed for maximized coverage as well as helmet compatibility. The piece is well suited to ice climbing and cold, mid-winter ski touring or aggressive resort skiing where staying warm and getting aerobic are priorities.
I've also found the piece useful this spring as a standalone layer while touring in warmer conditions. It breathes incredibly well and, combined with a light shell, makes for a good system for summit bids and ridge top breaks.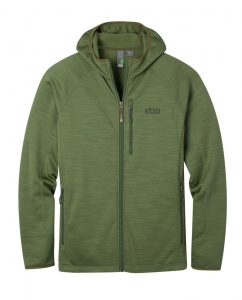 Stio Gannett Peak Hoodie
Karuishi Fleece 180 gram
$155
The Gannett Peak Hoodie is a relatively casual fleece layer that qualifies in my book as the piece that walks the line between between everyday casual wear and layering for not-so-technical pursuits. It features 180 gram brushed fleece and is an ideal weight for general mid-layer needs for almost any outdoor activity fall, winter or spring. The traditional brushed inside and relatively loose cut have definitely made it more of a go-to piece for day-to-day wear versus a dedicated technical layer.
Still, it breathes reasonably well and has made a nice mid-weight layer for resort skiing and warm spring touring days. If you need one fleece to do it all from town errands to backcountry pursuits, the Gannett Peak has you covered.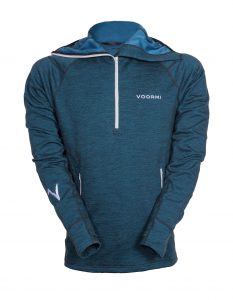 Voormi High-E Hoodie
Blended wool
$229
Voormi is a relatively new, Colorado-based company with an innovative approach to manufacturing and knit wool clothing. The High-E Hoodie is made in USA from Rocky Mountain sourced merino. But it's not a simple merino hoodie. Voormi is blending wool and synthetic to create a new breed of durable, weather-resistant and extremely warm knit fabric. It has a unique feel and heft to it. It's meaty, and it works.
The High-E Hoodie is super warm. So warm, in fact, that it's not so much a touring layer as it is a standalone top that breathes and manages light precip on its own. Touring uphill in this piece requires some cold temps and no shell is required.
The High-E Hoodie also makes a great cold weather layer for resort skiing, and I found it a really nice piece for less aerobic pursuits in cold temps, like splitting wood, too. It's a technical piece with some serious casual appeal. But it's just too warm for your average winter ski touring day. Where it shines is when the temps dip into the teens or single digits (Fahrenheit). Think cold weather fly fishing, ice climbing and general winter wear and the Voormi High-E Hoodie is an easy choice. The cut felt a little long at first wear but, with time, I have learned to appreciate the added length and the incredible versatility the High-E offers as a standalone winter layer.