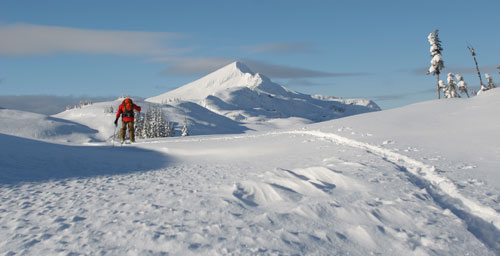 I managed to slip out of town and into British Columbia last week for a little backcountry skiing trip to Sol Mountain Lodge in the southern Monashee Range. I have been up to Sol Mountain numerous times in mid to late December over the years. As usual, Sol delivered the goods.
We were greeted by temps hovering around zero degrees Fahrenheit and a settled snowpack pushing the  two-and-a-half meter mark. The combination served up some fine skiing that could well be some of the finest of the season.
Aaron and Dave (the lodge proprietors) were on hand to serve up some fine BC hut hospitality. They opened Sol Mountain Touring six years ago, and the lodge has developed quite a reputation for deep snow skiing. This year is no different. With over two meters of settled snow, we were able to hit the usual haunts with incredible conditions – and it was only mid-December.
Seeing as though I am a hard working professional, we had a variety of skis, day packs, and assorted puffy coats on hand for testing. The real treat of the week though was when Aaron called me over, "Hey Waagy, you should give these a try…" and handed over his spanky new Prior Husume skis for testing.
I will not go into detail, but the Husume rocked. Once I clicked in, Aaron was unable to get them off my feet and I squeezed in a couple of fine days on the 181cm Husume (125/104/112) and have a whole new perspective on backcountry ripping. More details to follow…