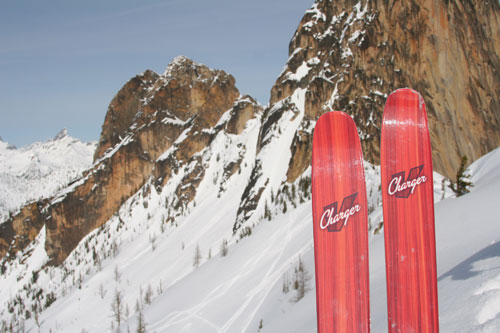 Voile's introduced two new skis in Janauary 2010: the Charger – 134-112-123 ; 2.8kg pair (171cm); 171/181/191cm, and the Vector – 118-94-107; 2.7kg pair (170cm); 160/170/180cm. Both skis build on Voile's Drifter design incorpating camber with moderate tip rocker and slight tail rocker. The Charger was a top pick in its size category during our testing. The ski is light, responsive and remarkably versatile in turn shape. The Charger is a backcountry powder ski that is at home in all terrain.
Unlike the Voile Insane, a traditionally cambered ski with a pretty darn small turn radius for its width, the Charger opens up the turn radius, yet remains lively and easy to turn. The Charger skis with ease in mid-size boots and its light weight keeps it managable for a full day of skinning.
We have not had as much time on the Vector as we did the Charger, but we should be heading up for some final ski testing and to ride the new BD Efficient Series ski boots in the next week or so.