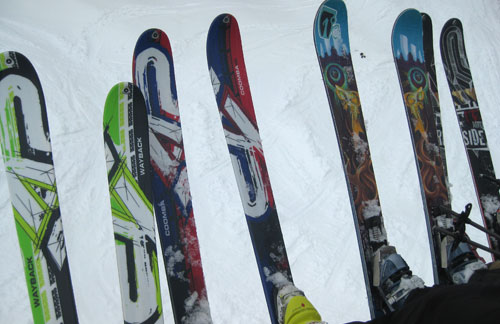 K2's 2010 backcountry ski line-up has a few notable changes from the 2009 season. First, all of K2's Backside line feature their new p-tex top sheet material. The idea behind the p-tex is to keep snow from building up on the top sheets, a great way reduce uphill weight. Does it work? To be honest, we did not get to tour on the skis in conditions that would normally produce snow buildup. What we saw was good, but it was far from a true evaluation. Other changes include an all new Darkside and the addition of tip rocker to the Wayback (formerly the Mt Baker Superlight).
The new Darkside has loads more tip rocker than last year's and all new graphics.The 2010 Darkside (156-128-144) combines K2's most aggressive tip rocker with a traditional tail. The result is a super stable and fun ski, but it does weigh in at 10.4lbs a pair. But just think, hopefully you will be carrying less snow on the top sheet in the uptrack. No doubt, it is a fun ski, and it encouraged our testers to attempt setting new speed records at the ski hill, but it is leaning pretty far toward mechanized access.
Of more interest to dedicated touring skiers is the 2010 K2 Wayback. The addition of tip rocker to the Wayback makes for a very lively, yet predictable and modestly stable ski. The Baker Superlight of old and last year's Wayback were a fine boards, but they lacked the personality and lively feel of the 2010 Wayback. I will go out on a limb and call the new Wayback a significant improvement over an already good ski. It is not the lightest (6.8lbs/pair) in its class, or the fattest (124-88-108), but it held its own in a variety of snow conditions, and I was impressed.
The rest of the 2010 K2 Backside line remains the same aside from the new top sheet material and some new graphics (women's skis too).
The K2 Darkside and the K2 Wayback are available for purchase at evo.com