Smith Vantage Ski Helmet
I've been slow to adopt a ski helmet for the backcountry. As I'm fond of saying to those who question my lack of helmet, "My head's not a vital organ, so why worry."
Joking aside, I certainly understand the value of wearing a helmet while skiing. I don't get on my bike without one, and I've been known to wear my climbing helmet on more technical spring ski tours. Nonetheless, I've been slow to embrace helmet wearing for general backcountry skiing for the lame reason that it's just one more item to manage and deal with between runs.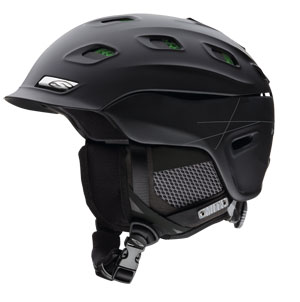 Knowing that a ski helmet has the potential to save my life and that designs are evolving toward lighter, more vented backcountry-friendly styles, I decided to take a closer look at some options. After talking to a few ski guides and various friends who use a ski helmet in the backcountry, the Smith Vantage keeps coming up as a solid choice for backcountry skiing – Lightweight and excellent vent regulation are common praises of the Vantage.
Tech
Without getting mired down in proprietary material and safety lingo, the Smith Vantage ski helmet has a lot to offer helmet-wearing backcountry skiers: It's wicked light at 440 grams / 15 ounces, has two sets of adjustable vents and offers easy fit adjustment thanks to the BOA dial-adjust fit system. Of course, it has leading edge crash protection, meets all of the various standards for ski use and looks pretty cool to boot.
Honestly, from first fit, it felt great. I began using it at the ski hill last winter and, come spring, grabbed it for high alpine backcountry adventures. It mates with my older Smith goggles well and has proven to work with K2 and Julbo goggles, as well as my sunglasses. Really, what has sold me on it boils down to weight, fit and adjustable venting. It's light and comfortable on my head and, aside from its volume, it's pretty low impact on the pack, too.
The 21-vent system features two controls and actually vents well enough that I have worn it on ascent without complaint. It's as close to feeling like you're not wearing a helmet as I can imagine a helmet feeling. On storm days, it adds a nice level of protection from the elements while maintaining goggle venting and a warm head, though I still kind of miss the cozy feeling of my favorite boiled wool toque . . . of course, the Smith Vantage offers much better protection.
Shop for a deal on the Smith Vantage ski Helmet (men's)