Skier Gift Ideas
'Tis the holiday season and time for our annual backcountry skier gifts! We've put together a collection of skier-centric items from our product test crew here are at offpistemag – all under $100.
Pistil Designs boiled wool toques – $40-$42
You can't have enough toques in your life. In fact, you can calculate the number you should have with the equation n+1, where n equals the number you currently own. When it's cold and blown' like it's prone to do on Mt. Hood, we reach for a boiled wool hat from Pistil Designs. There are wool hats and then there is the Pistil boiled wool hat and little else compares. Add Pistil style and these toques are the best of the best. Pistil makes several variations of the super warm, boiled wool style and a few of our fave's include the Fergus, the Canyon and the Otto from the men's line-up or the Sprout and the Ramble from the women's line-up.
Voile Ski Tuning Stand / Tree – $60
Our favorite off-the-shelf ski tuning stand is the Voile Ski /Board Tuning Tree. I saw these at Voile's booth during a trade show a few years ago and have been using them in the offpistemag shop ever since.  They create a platform that is a full 12 inches across, so they are rock solid and accommodate today's big skis or a snowboard with ease. Set-up is easy – just clamp them to your workbench surface and away you go waxing and tuning. The top features grippy rubber to keep your skis from sliding, offering a solid platform for waxing and mounting. There's even a slot for putting your boards on edge to do tuning work.. Get them directly from Voile for $60. They are hard to beat for all-around ski maintenance needs.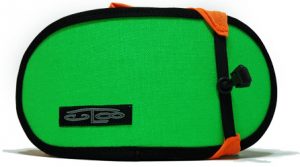 TLG8 Goggle Case and Covers – $20-$33
Who wants to pack a big hardshell goggle case? Not us. Tailgate Industries in Bend, Oregon makes a sweet semi-rigid goggle cover that offers hard case protection without the bulk. The 49R goggle case is our favorite simple solution to keeping you ski goggles safe and sound in your pack. The fleece-lined goggle case uses a rigid face (made of 100% recycled plastic) and a soft pocket with overlapping fabrics to secure and protect your goggles when not in use. The case is curved to match the shape of your goggles and is easy to use. The result is excellent ski goggle protection when in the case, and a slim, non-bulky case that fits easily into your pack, with or without the goggles in it. Tailgate also makes the Gondom – a soft goggle case that fits over your goggles while they are on your helmet. Although not as backcountry skier specific as the 49R, the Gondom is perfect for protecting your goggles if you leave them on your helmet for your resort setup. Check out www.tlg8.com for all the beta.
Helly Hansen Vor Glove – $95
Ahh, the versatile and always functional leather ski glove. We dig a good leather ski glove and the Helly Hansen Vor Glove fits the bill nicely. They are soft and supple for great dexterity. Think work glove with a few key ski glove features, like a ribbed cuff and a thin fleece liner. The Helly Hansen Vor glove is ideally suited to uphill travel where a fully insulated glove is overkill. The Vor keeps you warm while on the move and allows full functionality of your hands and fingers for adjusting bindings, climbing skins and layers. On milder winter days, they serve the up and down. The goat leather is soft out of the box and only looks and feels better with age.
Rocker Ski Racks – $39
Skis have a way of cluttering your garage, hallway, closet or wherever it is you happen to store them. We all know what happens when you simply lean your skis against the nearest available wall space – if they don't fall over right away, they will fall over eventually – often taking a few other choice items with them on their way to the ground.
Rocker ski racks is the best off-the-shelf ski storage solution I have used to store skis. The ingenious racks offer an efficient and functional way to store today's modern rockered skis – or older skis too, for that matter. Each rack holds one pair of skis or a board simply by hanging it in the provided slot, one ski on each side. Take a closer look at rockerskiracks.com.
Darn Tough Ski Socks – $22
Socks, how boring, right? Well, actually new socks are a real treat and make great skier gifts. Make it Darn Tough Ski Socks and you're talking happy feet. Good ski socks are kind of like toques; you can't really have too many. We suggest going with thinner over thicker and prefer the Darn Tough Over-the-Calf Padded Light Ski Socks. They offer extra padding where you need it – the shins – but not where you don't, so you get a good snug boot fit. They use a fine weave featuring a blend of merino and synthetic yarns that hugs your feet for blister-free touring. Darn Tough socks are born and bread in Vermont and live up to their name, really. These socks go the distance on durability – both in wear and in maintaining their stretch and elastic hold.
Off-Piste Swag – $6 – $40
We'd be remiss if we didn't do a little shameless self-promotion in our skier gifts line-up, so here it is: Off-Piste Voile Straps! Skiers need Voile Straps. Use 'em to bundle you skis and poles, strap gear to your pack, perform field repairs and so much more. We sell 'em by the pair for $12. The other thing backcountry skiers need is a pocket-sized Off-Piste Ski Scraper. And we've got 'em. They are sized for easy field deployment and cheap at only $6. We also have Off-Piste Ball Caps, trucker and traditional styles and Ullr stickers!