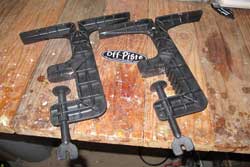 If you want to spend anytime doing your own ski maintenance, a solid ski waxing and tuning bench is important. Between keeping my skis ready to roll, setting up test gear and working on friends' gear, my bench sees use multiple times per week. Ski widths exceeded the width of my traditional ski vices years ago, and I've tried a variety of ski tuning stands and racks for basic ski maintenance over the years. Here's a couple universal and low cost ski waxing and tuning bench ideas that I think work well.
My favorite off-the-shelf ski tuning stand is the Voile Ski /Board Tuning Tree. I saw these at Voile's booth during a tradeshow a few years ago. They were using them to display some splitboards. Turns out, they own the mold and sell them. They have become my daily use ski stand. The top platform is a full 12 inches across, so they feel rock solid and accomodate a pair of fat skis or a snowboard with ease. They are easy to set up – just clamp them to your workbench. The tops have grippy rubber pads to keep your skis from sliding and they offer a solid platform for waxing and mounting. There's even a slot for putting your boards on edge to do tuning work. The stands are easily removed for storage between uses. You can get them directly from Voile for $60. They are hard to beat for all-around ski maintenance versatility and easy storage.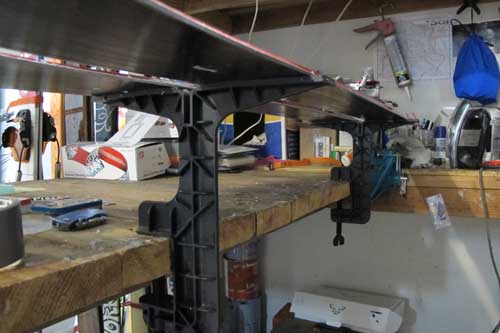 My favorite do-it-yourself ski tuning bench uses a couple pieces of 2×6 lumber and old bike inner tubes. I built it on a portable bench that rolls around the garage as needed and, the way I built mine, it can handle a handful of skis at the same time. But it could easily be set up for a single pair of skis, too. It's great for when we're ski testing and have a fleet of skis to wax and bindings to adjust. It's also a convenient way to store skis.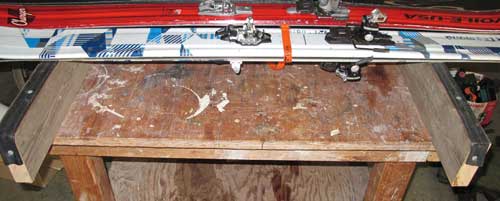 Basically, I just mounted a couple of six foot 2×6's on edge along either side of a work bench. (The bench pictured is mobile bench that rolls around my garage as needed). I found the 2×6's better than 2×4's as they put the ski high enough above the bench top to allow clearance for any bindings when the skis are lying base up. I used 2×4's as braces to add stability to the 2×6 (see poto below). I screwed everything together and then screwed it to the bench top. The top edge of the 2×6 is covered with an old mountain bike inner tube to protect the skis and offer grip when scraping or otherwise pushing on the skis. The whole set-up is great for ski work, but it does impact the usability of the bench for non-ski related work. You could easily set up your 2×6's to be removable for the off-season. To make a smaller, one ski version, just use shorter 2x's that don't run all the way across your bench.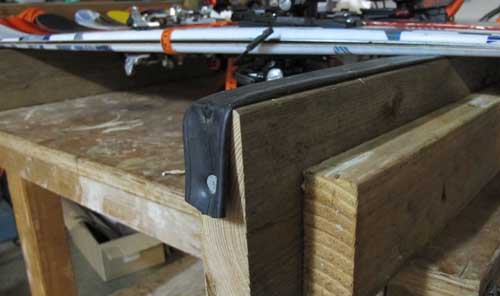 If you wax your own, check out our ski scrapers!