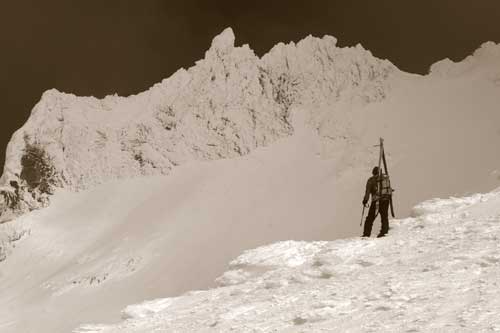 I'll be the first to admit that I'm more skier than mountaineer and generally take powder dreams over summit fever. That said, as the cold snows of winter settle and spring ski mountaineering kicks into gear, a few essential ski mountaineering tools find their way into my pack.
Ski Crampons
For years, I wondered why anyone would need ski crampons. Surely, if it is so hard that it requires crampons to ascend, why would I want to ski it was my thought. I was uninformed. The convenience and ease of ski crampons is hard to overstate when conditions are firm. After all, maybe it's the other side of the ridge that warrants the descent or the sun has yet to warm your line.

You'll find ski crampons for just about every AT binding on the market including Fritschis, Dynafits and G3 Ion.  And for anything else, including telemark bindings, you can use a ski crampon from B and D Ski Gear.
Think of ski crampons as firm snow skinning accessories. They are designed to work in conjunction with skins and in terrain where booting is not warranted. My preference is for the type that pivot with your foot as you skin up the hill. Simple and lightweight, ski crampons save energy and give you added confidence in firm conditions.
Boot Crampons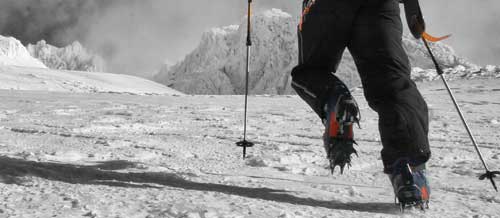 There are certain conditions and terrain that require getting a little technical and strapping your skis to your pack, and nothing makes short work of steep, firm snow like a nice boot crampon. Because I am a skier first and mountaineer second, I see boot crampons as a short term solution to reach skiing. As a result, I believe crampons should be lightweight, easy to use and easy to pack. I've been using the Black Diamond Neve Pro boot crampons for a couple of seasons and they work great. You'll also find similar lightweight, aluminum boot crampons from Camp, Petzl and Grivel. The Petzl Leopard boot crampon is also a nice lightweight solution.
There is definitely a trade-off in durability when you move to an aluminum crampon, but personally, given the amount of use my crampons see, I'm happy to trade a little durability for the drop in weight from a steel model. Staying away from rocks with your aluminum crampons is a great way to help improve their lifespan. They can't rival the durability of a steel crampon, but the Neve has proven durable enough for varied ski mountaineering use.
Lightweight Ice Axe
Finally, if you are traveling in steep, firm snow, an ice axe is lightweight insurance to help arrest a big slide and for maintaining balanced footing in precarious perches. An axe also doubles as an anchor for your gear, roped lowering and general delicate maneuvering in firm snow. My axe stays on my pack more often than not, but when it comes time to transition between skis and crampons or to descend firm slopes, there's no substitute.
I've been using a Black Diamond Raven Ultra ice axe for multiple seasons. It features an aluminum shaft and a steel head – ideal for light-duty ski mountaineering use and it weighs an impressive 11 ounces. Similar to the Raven Ultra is the Petzl Ride ice axe. The bent shaft gives it a technical edge.
Need to carry a shovel and an axe? Shovel meets ice axe with the BCA Shaxe – read our review.
Shop for ski mountaineering tools and support Off-Piste Mag