Scarpa Freedom SL Ski Boot
If you are in search of one boot to serve your resort and backcountry ski needs, you'll be stoked to see the new boots coming from K2, BD and Scarpa.  The past couple of seasons have offered a great selection of lightweight three- and four-buckle boots for dedicated touring and this upcoming season looks to be the season of alpine style AT boots that actually tour well. The industry calls the category freeride boots – alpine minded boots intended to serve in the backcountry, too. In the past, most of the boots we've tried in this category have been great ski boots with poor walkability – glorified alpine boots with only basic walk modes. Times are a changing.
The boot we've got the most time on so far is the Scarpa SL. Developed in collaboartion with Chris Davenport, the Freedom SL features overlap construction like a trad alpine boot and a walk mode that rivals the walkability of some lighter AT boots.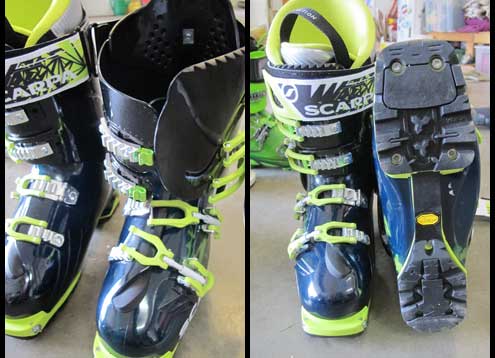 The Freedom's out of the box fit was excellent for my modestly wide feet and it's light compared to its competitors at 3 lb 13 oz (size 26). Scarpa publishes a 101mm wide last and it felt great on my feet from first fit. Up until this point, I have been using a Scarpa Mobe as my general purpose resort/sidecountry boot and it weighs in the same as the new Freedom SL, but that's where the similarities end. The Freedom SL offers more boot in ski mode and a much improved walk mode over the Mobe. Scarpa's specs say 27 degrees of cuff range – 7 back and 20 forward – and it feels great while skinning for a boot of its scale. The specs include details on the carbon fiber core design, which keeps the boot light.  Foward lean is 14-degrees plus or minus 4-degrees of adjustability.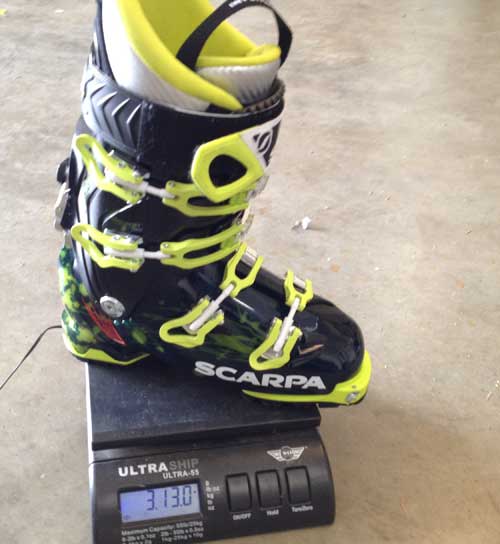 The boot also offers interchangable DIN/AT soles and a very nice heat formable Intuition liner. I'm not familiar with Sacrpa's older interchangable soles, but the new design is said to be – and appears to me – quite secure with a bolt-through connection. The AT sole is also tech binding compatible.
The whole package is enough for a jaded backcountry skier like myself to recognize the benefits of a stouter boot. I've had nothing but fun in these boots and believe Scarpa is right on the mark for uphill and downhill performance for skiers who prefer an alpine fit and feel in their boots. View Scarpa Freedom Freedom SL ski boot specs. Next up: BD Factor MX and K2 Pinnacle 130.
Support Off-Piste Mag and shop for alpine touring boots