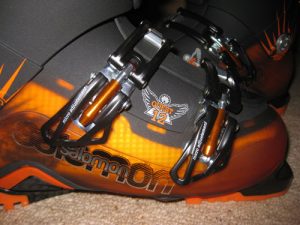 Fresh on arrival here in the office is a pair of Salomon Quest 12 AT boots. It is the same boot that was released last winter with tech fittings (Dynafit compatible) and quickly recalled due to failure of the fitting. The boot has been re-released this season without tech fittings. The touring pads with Dynafit compatible tech inserts are NOT being released this year, and according to Salomon "there is no set date for release in the future."  So, the Quest 12 does NOT have Dynafit compatible steel inserts in the toe pads.  The boots are still compatible with other ISO norm touring bindings from Fritschi, Silvretta, Marker, etc, and they are currently compatible with the ISO norm for alpine DIN standard by swapping out the appropriate heel and toe lugs.
The boots are, for a guy with a strict nordic background, very alpine-boot like. The Quest weighs in at 4.58lbs/boot (9.17lbs/pair) and is decidedly stout relative to my normal Scarpa Spirit 4 set up and most other AT boots I have tested. The Quest 12 is obviously targeted toward the alpine skier who wants a little touring flex for short walks and boot packs.
Burly, wide buckles are complimented by a very wide power strap. Although only a "three-buckle" boot, the Quest feels like it should be able to go head to head with any burly touring boot on the market without any problem. Walk mode is noticeably minimal, but improves when you release the upper buckle. Without skiing in them, I am willing to go out on a limb and say these boot are mostly about the down. With any luck, I should be able to get a day or two in this month and will report back on their on-snow and uphill performance.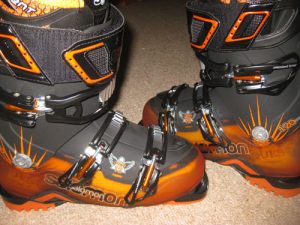 Check out the Salomon Quest Ski Boots or shop the full line of Salomon ski boots at evo.com.