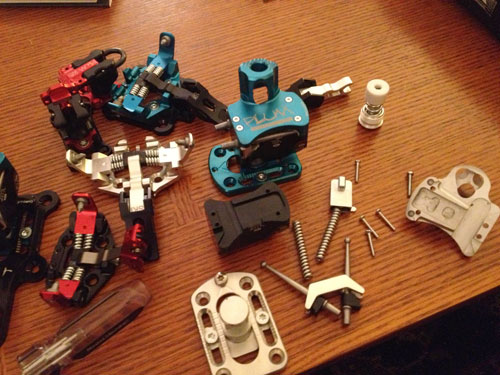 I got a close look at the Plum tech-binding last week when Ian Reid, director of the North American distribution for Plum, stopped by to give me the full tour. The finely machined binding goes head to head with tech-binding offerings from Dynafit, G3 and La Sportiva.
I was able to spend several days on the Plum Guide (one of three different models including freeride and race versions) last season. Functionally, it skis great. The Guide offered everything I've come to expect from a tech binding with no added fanfare. It's pure and simple in its approach: quality craftsmanship and tried-n-true design. The toe unit mirrors the basic Dynafit design and functionality of the venerable TLT, while the heel unit follows the basic "volcano" design. This year's bindings include small design revisions, but big picture functionality is unchanged.
What sets the Plum apart? Aside from the binding's lightweight (670g/pair for the Guide), the craftsmanship is the first thing you will notice. The machining and finish yield an elegant look and feel. Next, comes its simplicity. Going over the binding with Ian, I disassembled (and reassembled) the heel unit in mere minutes with a single torx screwdriver. There is no crazy spring explosion when you open the heel; it's clean and simple inside and features precision parts. Plum has simplified the interior components and design of the whole binding to offer easy field serviceability and the ability to replace virtually every component from toe arm to heel pin.
Born out of rando racing, Plum introduced the more everyday user model, the Guide, last season. This season, comes their new Yak or freeride targeted model. The Yak adds a mounting plate front and back that widens the binding mount to 50mm (30mm is standard width). The idea is to appeal to users of wide skis and freeride boots by offering a stouter mount and less ramp angle by raising the toe-piece to create a boot ski interface better suited to the flatter sole designs of a freeride boot. The Yak also adds a heel pad to support the boot while touring. Of course, the Yak is a little heavier but so are fat skis. The Yak looks cool but, personally, I see the Guide as the model of choice for most skiers.
You probably also noticed the lack of brakes. Although not a big deal for many skiers, Plum recognizes the importance of brakes and is finalizing the design and patent on their brake now. According to Ian, the brake mounts behind the toe unit and we should see it soon. By mounting the brake behind the toe, Plum avoids the problem of upward pressure on the heel unit, which can affect releasability. Learn more about the Plum tech binding at their website and look for the binding at your local specialty retailer.
shop for AT bindigs and support Off-Piste Mag