Softshell Ski Jackets – Patagonia Knifeblade Jacket, OR Enchainment Jacket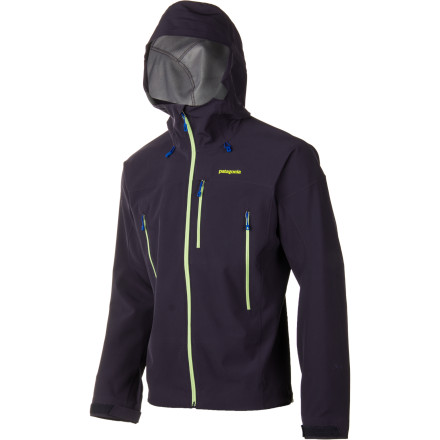 Having trouble regulating your temp on the up track? In addition to wearing too many layers or simply too warm a layer, too many backcountry skiers wear waterproof/breathable shells (top and bottom) for touring. I'm here to tell you that less is more and, more often than not, a fully waterproof/breathable shell (Gore-Tex pioneered the fabric, but there are many varieties) is more than you need for ski touring.
What, how do I stay dry, you ask? Well, unless it's actually raining – and hopefully you can pick and choose your days enough to avoid the rain – most softshell jackets (rated water resistant vs waterproof) will keep you plenty dry, especially if you are moving like one does on a ski tour. Even here in the Pacific Northwest, where the white rain is all too common, I never wear a waterproof/breathable coat when touring. They just don't breathe well enough. Softshells minus the waterproof membrane are the way to go. You can better regulate your body temp without fussing over layers at every transition. Choose your touring shell for its breathability, not its waterproof qualities; you will be drier in the long run.
The Outdoor Research Enchainment and Patagonia Knifeblade jackets are great examples. Check out our reviews on both:
The Knifeblade uses Polartec Power Shield Pro to deliver a very functional jacket for the alpine environment. Designed as an alpine climbing piece, it crosses over to backcountry skiing nicely and simplicity is one of its greatest assets; the Power Shield Pro fabric is its other.
The lightweight yet burly stretch-woven Power Shield breathes like a champ and is as close to stormproof as you need for midwinter ski touring. It also happen to have a windproof membrane adding storm protection without compromising breathability or its soft feel like a waterproof membrane. Thanks to factory taped seams and a robust DWR treatment, the Knifeblade has proven to be very stormproof. The fabric yields a great feel and range of motion. Arm swing is excellent, and there is a slight stretch to the material for ease of movement.
Alpine minimalism dictates you only get three pockets: two vertical chest pockets big enough for today's wide skins and high enough for easy access with a pack or harness, plus a smaller chest pocket for your phone or other small necessities.
Layered correctly, you can leave the car or the hut in the morning and never take this jacket off because it's so breathable. Add an insulation layer over the top at rest stops or for the last run of the day, and the Knifeblade jacket has you covered for the up and the down. Fans of the old Patagonia Readymix jacket will appreciate the simplicity, breathability and performance of the Knifeblade. It's available in men's and women's models as well as in a pullover style.
The Patagonia Knifeblade Jacket has been replaced by the new Patagonia Kniferidge – look for Patagonia Kniferidge Jacket (new 2015) – same Power Shield Pro fabric and similar design to knifeblade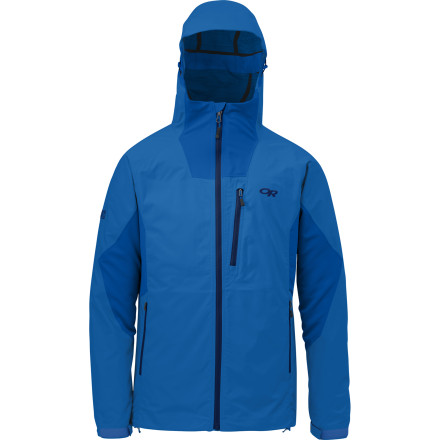 The Outdoor Research Enchainment jacket makes breathability and movement its top priorities. Using a mix of tightly-woven softshell and breathable Schoeller NanoSphere stretch panels under the arms, the Enchainment is designed for high energy output and extended range of motion. Outdoor Research plugs it for alpine climbing, but I think it makes a great touring shell.
Sure, it's not waterproof, but it features welded construction and handles snow just fine. Fit is athletic. The feel is lightweight, yet tough. It's highly wind resistant and, thanks to its NanoSphere DWR technology, it sheds snow well.
There's no question the Enchainment is designed with alpine minimalism in mind. There's no powder skirt or features that have you scratching your head to understand. It's a functional and practical ski touring jacket. The Enchainment will treat you right all but the wettest days and its breathability reduces the need to adjust layers during the day.
Outdoor Research delivers a no-frills, git-'er-done jacket for a hundred-plus bucks less than the competition. It's available in men's and women's models.
shop for deals on the Outdoor Research Enchainment Jacket  – on sale 40% off!