Outdoor Research San Juan Jacket
When is the last time you skied in the rain? Hopefully, it's been long enough that you can't recall. I ask because many skiers are too concerned with full waterproof protection when choosing a jacket for backcountry skiing. The reality is that the number of days we spend ski touring in truly wet conditions is limited. Of course, snow comes in a wide variety of forms – some wetter than others. Living in the Pacific Northwest, I am all too familiar with what we call the white rain. And I certainly appreciate a waterproof ski jacket, especially for resort skiing. That said, in all but the most marginal conditions, I still prefer a breathable jacket over a waterproof one for backcountry skiing. Sure, there are lots of claims regarding waterproof and breathable performance. But, in my opinion, if you really want a breathable jacket, you need a softshell – a jacket without a waterproof membrane. The latest jacket to pass the test of all-around breathability (and good weather resistance) for ski touring is the Outdoor Research San Juan Jacket.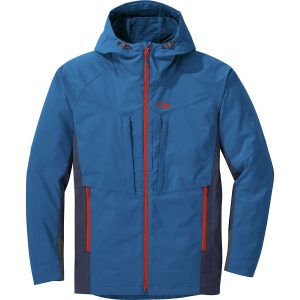 In my ideal world, I can wear a base layer and a shell jacket for the bulk of a ski tour. Climbing and skiing without removing the shell, and layering with a puffy jacket for breaks and descents as needed. The reason to go softshell is simple: true breathability keeps you drier and more comfortable when ski touring. I don't know about you, but I generally work up a sweat on the uprack. The more the body can breathe (and vent heat) while skinning, the drier and more comfortable you will be and the less you need to adjust layers with each uphill or downhill transition. The Outdoor Research San Juan Jacket does a fine job of letting the body vent heat and breathe. It still sheds snow and wind, albeit not like a hardshell or waterproof membrane jacket. But when you are working hard on the skin track, the added breathability of the San Juan helps keep the jacket dry too.
What's different about the San Juan Jacket
The San Juan jacket is designed with backcountry skiing in mind. The first thing you notice when putting the jacket on is it's light, easy to move feel. It's cut for a trim fit that's low-bulk and sits well under a backpack. The stretch-woven material lets you flex, bend and move without restriction and without the classic crinkly feel of hardshell jacket. Good sized pockets have big openings for easy access. The zipper pulls have glove-friendly pull tabs. And there are two internal mesh pockets for stuffing a hat or light gloves. The overall design and feel walks the line between minimalist and full-featured. There are lighter jackets, and there are jackets with more features, but the Outdoor Research San Juan Jacket has kept me touring and lapping backcountry stashes without want for more.
While light, the San Juan Jacket is not super light. It has a decidedly durable feel that offers a good degree of wind and weather resistance. I've been able to pair it with a light or midweight base layer for most ski days. My favorite aspect of the jacket beyond the fact that it breathes great is how soft and flexible it feels. It leaves you feeling ready to move.
Softshell Jacket Limitations
Like any softshell jacket, the San Juan has its limitations. It is not a jacket for wet, rainy days or standing around. Still, it handles storm skiing just fine. It's a jacket made for moving. The combination of tightly-woven material, a durable water repellent finish and its natural breathability work together to keep you comfortable and on the move through a wide range of weather conditions. It's an everyday backcountry ski jacket that balances breathability and weather resistance. It falls in the light but durable category, and it packs down reasonably small for easy storage in your pack.
Support Off-Piste Mag when you shop for the Outdoor Research San Juan Jacket at Outdoor Research