Outdoor Research Elevator Pack – A Technical Daypack for Mountain Scrambling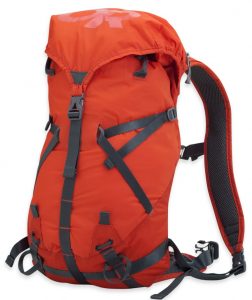 For me, summer is a time to travel light in the mountains, a time to enjoy the simplicity of the warm weather and summit views. There is something very freeing about hiking and scrambling without the burden of skis or technical climbing gear. The Outdoor Research Elevator Pack is a light, simple and capable day pack that matches a go-light perspective and ambitious attitude.
A true go-light disciple can find lighter and smaller than the OR Elevator daypack, but the pack strikes a sweet balance between space, simplicity and amenities.
At 14-liters, the top-loading pack fits everything you need with a little extra space to shed a layer or to hold that extra must-have piece of gear. External cinch straps let you strap on ski poles and there are axe loops so you can add a lightweight ice axe to your kit. There's a traditional lid with an easy-access zip pocket, a removable back panel you can pull to shed a few ounces, to make the pack easy to pack in your overnight pack for summit days or simply for a seat pad in the mountains.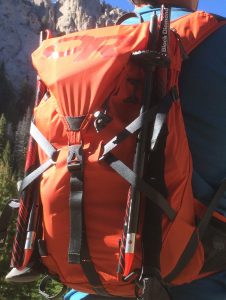 Basically, the Elevator pack is more than a simple summit sack and way lighter than your do-it-all day pack. It takes a little care to pack well so the back panel remains flat and comfortable, but the trade off is worth the lightweight reward. A couple small hip belt zip pockets let you keep sunscreen or a gel handy. The Elevator is also hydration bladder compatible and weighs in under a pound (14oz/420g).
Make the most out of your summer adventures with the Outdoor Research Elevator Pack.