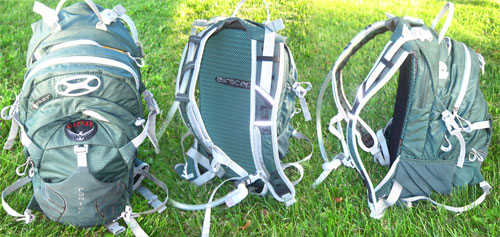 Summer is in full force and, although there is still good skiing to be had in the Northwest, it is prime mountain biking season. I have had a new mountain bike hydration pack on my wish list for a couple of seasons, and when I saw that Osprey was making hydration packs, I decided it was time to try something new. My old bike hydration pack was a minimalist – little more than enough space to carry water and a spare tube. I wanted to upgrade to a pack that was big enough to carry a layer or two and a reasonable lunch, but not so big that it felt like a full daypack – enter the Osprey Raptor 14 hydration pack
The Raptor packs come in four different volumes: 18, 14, 9 and 6-liter. The three larger sizes include a 3-liter Nalgene hydration reservoir. The smallest pack uses a 2-liter. I chose the Raptor 14, the second largest in the series at 14 liters (850cu in.) It is small enough that it cinches down to a minimalist style when empty and large enough that I can take a wind/rain shell, a warm layer, food and the essential trail repair gear without over stuffing it. The size has proven ideal for full- and half-day rides.
The construction is quintessential Osprey – high quality and bomber. Like Osprey's ski packs, the design pushes thoughtful innovation with functional features. The suspension system is excellent without being overdone. Unique details like the magnet that holds the mouth piece to the sternum strap help set this pack apart.
The Raptor has three primary compartments (excluding the hydration pocket) – one small top pocket, one large main compartment and a third medium-sized compartment. The large and medium spots add mesh pockets and sleeves for tools, pump and tube storage. There are also two stretch-mesh side pockets and a nice stretch pocket with a clip closure on the face of the pack.
It took a couple of rides to learn how to best pack the Raptor 14, but I have found the layout and size to be a great match to my needs. In fact, I have found myself grabbing it for day hikes as well as mountain bike rides. The Raptor 14 has proven to be a do-it-all hydration pack. It carries well fully loaded, water and all, and it cinches down to a compact quick-ride size, too. As with their other backpacks, Osprey has found a great blend of technical features, functionality and comfort in the Raptor 14.
Osprey Raptor 14 hydration pack