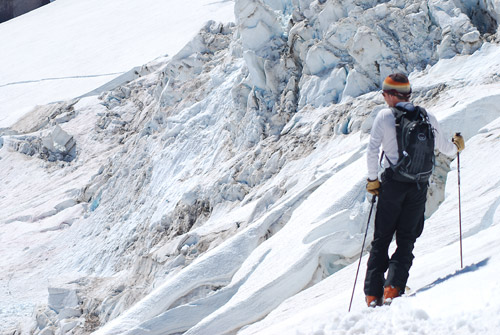 Today's gear item is a new sidecountry minded ski pack; the Osprey Karve 16. It is a small day pack designed for resort skiing and short sidecountry runs – not exactly our focus here at Off-Piste Mag, but an important category, nonetheless. A functional and properly sized resort ski pack is a great piece of gear to own. A small dialed ski pack makes for smooth transitions between the lift and backcountry gates. The Karve 16 is the largest of three packs in the Karve series; the other two are six and 11 liters in size.
I have not taken the Osprey Karve 16 ski pack
out for resort skiing, so I can not speak to its lift riding comfort, but I have taken it for a few summer tours where its small size matched my mission well.
At 16 liters, the pack's volume is just big enough to comfortably accomodate skins, shovel, probe, snacks and a light layer. The pack is hydration compatible and insulates your hydration hose by running it through the shoulder strap. When packed with the basic essentials, the pack feels great, but do not expect to put a full day's touring gear in this guy. Its 16-liter volume is definitely sized for sidecountry skiing, not a full day of touring.
I definitely pushed the pack to its carry limits when skiing with it this summer but, even so, I have no complaints about its performance. It met my needs to carry minimalist gear and food just great. Its limits arise when it is overstuffed with bulky items. It actually carried skis reasonably well for a small pack, but I was carrying lightweight tourinig skis, not burly sidecountry boards. My take is that it will carry your alpine boards for a short boot hike up a ridge, but it is not designed to do much more than that. A pair of big resort boards with Marker bindings would be better left on your feet or shouldered for a quick hike, versus strapped to the pack.
The system for your avalanche tools is great. Probe and shovel handle fit nicely in each side of the pack, while the shovel blade slides into the outermost pocket. This leaves just enough room for your skins, a layer or two and some bars or food to fuel your laps. The suspension system is appropriately lightweight, and it includes an adjustable waist belt and sternum strap.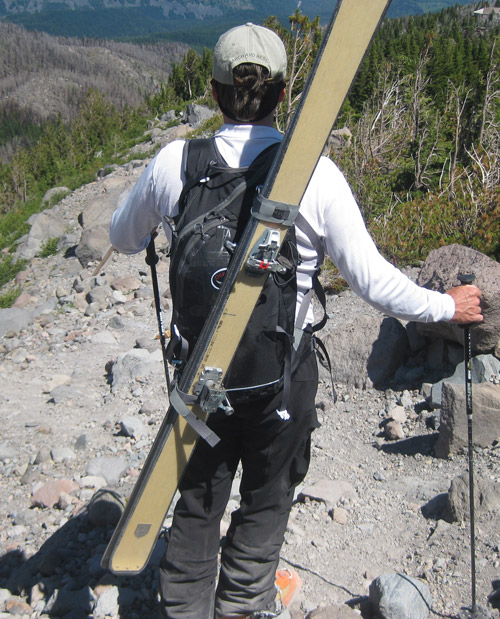 Overall, the Osprey Karve 16 is a resort ready pack. Whether you are looking for a slim pack to carry your avalanche safety gear while you chase lines at the hill or you want a ski pack that will carry the essentials while you head for a lap outside the rope, the Osprey Karve 16 will do you well. It offers easy access to all of your gear and rides nicely on your back. Want to slip out of bounds for a longer day of touring, look for something larger.
Buy the Osprey Karve 16 ski pack