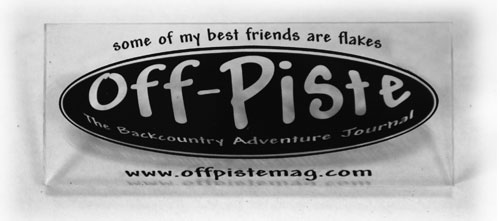 We've got new Off-Piste logo ski scrapers this season for your ski waxing and cleaning pleasure. Of course, scrapers are must-have items for your home ski waxing bench, but they are also great all purpose field tools. You'd be surprised how often a ski scraper comes in handy when you are out touring. I always keep a scraper handy in the pocket of my touring pants. You never know when your bases, boots or skins may suffer a little snow or ice build up, and a pocket-sized ski scraper is the perfect fix to the problem.

Our sturdy scrapers are 2 inch x 5 inch – big enough to scrape wax off those new powder boards, yet small enough to keep handy in your pack or pocket. Treat yourself and your ski pals to a our custom scrapers. Your ski bases will be glad you did.
Good deal $6 each. Better deal two for $11. Best deal four for $20.