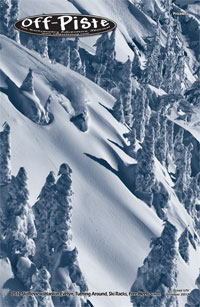 The October 2012 mag (issue 54) is out and includes our 2012 backcountry ski reviews, featuring 40 models. As usual, it also features top-notch avalanche safety advice, entertaining opinions and valuable backcountry wisdom. Subscribers should have the issue in hand by now, and it's available at select outdoor shops around the country.
Our first issue of the season coincides with the first real winter storms of the season. The Pacific Northwest has seen snow totals pushing 12-20 inches depending on where you look, and the Tetons are boasting similar numbers. Sounds like the Sierra got 2-3 feet!  Yes it's early, and I have yet to venture out on skis, but the winter vibe has arrived.
You can still get in on the October Issue by subscribing, and we now offer a digtal subscription too, so you can get the latest issue on your ipad, notebook computer or desktop machine for easy reading. You can peview the digi format on Issue 53 March 2012

By subscribing (or renewing), you'll also be entered for a chance to win  Black

Diamond Gear. This month we are sending one lucky subscriber a pair of Black Diamond Razor Carbon Ski Poles, and you have a chance to win a pair of Black Diamond Justice Skis (138/111/123) with Fritschi Freeride Pro Bindings! The Justice is a great soft snow touring rig. Here's a snip of our review on the Justice: The Justice serves up shorter radius arcs and is a bit more agile in tighter terrain than the Megawatt. It has good turn follow through and walks a nice line between surfy full rocker and a more traditional ride. It's still a quiver ski for most folks, but it's a fun one.
Current subscribers can get in on the ski contest by shooting us an e-mail requesting to be included int he giveaway.
Stay tuned to the latest with our e-mail newsletter – sign up here