Nikwax DWR Treatment – Renew Your Ski Jacket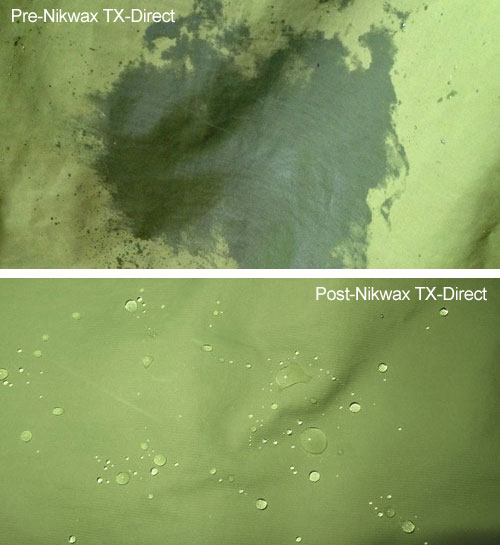 Given the rate of rainfall here at the office, the seasons have changed for real. There's snow in them there hills and it's time to get your gear in order for another season of backcountry adventure. If your favorite ski jacket has lost its like-new glow, you can give new life to any outerwear with Nikwax  DWR TX-Direct.
Whether you wear a softshell jacket or a waterproof breathable shell, the durable water repellent (DWR) coating wears out with use. The DWR is different from your jacket's (or pant's) waterproof membrane (think Gore-Tex, Dry-Q, Event, etc). The DWR is what keeps mosture beading on the outside; it's a coating or treatment to the fabric. All ski jackets and pants come with some form of DWR and all DWR coatings wear out with time.
Fortunately, you can effectively renew the DWR coating on your shell or pants with Nikwax TX-Direct. Nikwax makes wash-in and spray-on versions. Both work well, though, I prefer the wash-in simply 'cause it's good to wash your gear before the season gets rolling. Nikwax actually make a special non-detergent soap that they recommend you use before you run the TX-Direct treatment.
Take a look at the before and after shots of my three-year-old Patagonia softshell jacket. The section of jacket is the back, where my pack has really worked away the factory DWR coating. My experience has been that if you follow the Nikwax directions (they specify a certain amount of the bottle per garment), the treament lasts a full season. It's a great way to extend the life of your outerwear.
Support Off-Piste Mag when you shop for NikWax Products at OMC Gear
Support Off-Piste Mag when you shop for NikWax Products at Backcountry.com