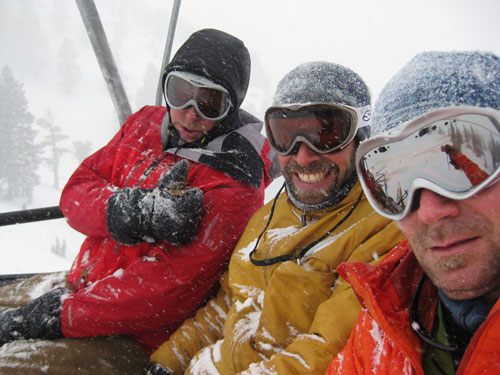 The coolest new skis at the OR show were lightweight touring-minded skis with mild rocker in the tips and powder-minded widths underfoot.
Dynafit Stoke – 129-105-119 ; 3.1kg pair (173cm); 164/173/182cm
Voile Charger – 134-110-123 ; 2.8kg pair (171cm); 171/181/191cm
Voile Vector – 118-94-107; 2.7kg pair (170cm); 160/170/180cm
Black Diamond Drift – 136-100-121 (176cm) 3.31kg pair; 166/176/186cm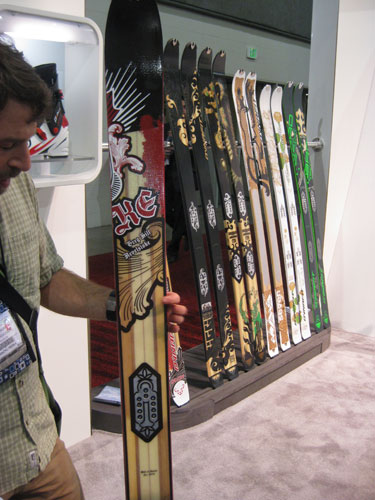 We skied all of these and they all delivered excellent performance at the demo day. The Stoke (short for Revelstoke, BC) takes the successful Manaslu platform, adds abot 10mm all around, and truley steps up performance. It weighs in at a respectable3.1 kg (just under seven pounds). Sure, it is heavier than the Manaslu, but it is signifigantly more powerful, too. The ski combines a Paulownia wood core with synthetic material and a mild rockered tip. Although the Stoke may not replace the Manaslu's quiver-of-one status, it will be a welcome addition for deep days.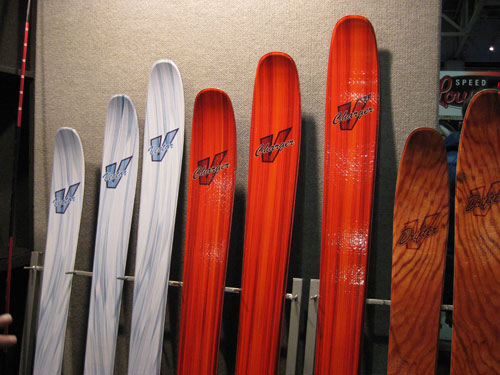 The Voile Charger was inspired by the wider Drifter and uses the same tip rocker and camber profile, but drops some 10+mm in width. The result is a light and lively ski that was easy to control and capable at speed. The Charger's manueverablity and overall personality were super lively and fun. The Charger and the Vector will replace the Insane and Asylum in Voile's line-up. The new skis both use mild rocker, lightweight aspen cores, and are made right in Salt Lake by the Voile crew. Inspired b the Drifter's performance, Wally, Voile's founder, saw a need to update the line with more versatile rockered skis. The Vector will vie with the Manaslu for quiver-of-one touring ski status, while the Charger goes head to head with the Stoke for powder touring fun.
Black Diamond introduced six new skis at the show; all part of their new Efficient Series. The Flagship board from the new line is the Drift. It is great to see BD move to ski design than keeps an eye on weights. The Drift was a solid performer at the demo. At 100mm underfoot, it could be viewed by many as an all conditons touring ski. Like many of the lighter skis, the Drift uses Paulownia wood in its core. Its rocker tip is relatively subtle, but the tip is soft and makes for a maneuverable and lively ski.
Our annual ski testing session wll ramp up in about a month, and this year's line-up has some excellent potential for serious touring-minded boards. I look forward to getting to know these boards and more in the coming months.